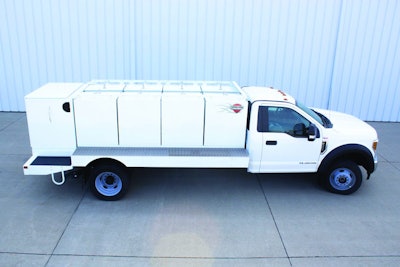 Thunder Creek's new medium-duty truck body, the Multi-Tank Upfit, is designed so drivers can haul bulk diesel fuel without a CDL or HAZMAT endorsement.
The new product, designed for the Ford F-550 chassis, follows the company's introduction earlier this year of its Multi-Tank Trailers that also allow drivers to haul bulk diesel fuel without a CDL or HAZMAT endorsement. With both products, state restrictions may apply, but most states adhere to federal regulations in which drivers of trucks less than 26,001 pounds and with tanks holding less than 119 gallons are not subject to commercial licenses.
So, Thunder Creek installed "eight independent, 115-gallon tanks that are only connected when a common manifold is opened at the pumping station," the company says. The tanks provide a total capacity of 920 gallons. The diesel pump and manifold system are housed in the rear utility box.
"This is the natural evolution of the multi-tank concept, allowing contractors, heavy equipment owners and fueling services to haul diesel in the platform that makes sense for their business," says Luke Van Wyk, vice president of sales. "This will allow fuel to be delivered in the field by trusted employees without requiring a CDL or HAZMAT endorsement."
The tank upfit is compatible with Ford F-550 chassis with and without PTO. The company also plans to fit the product to other Class 5 trucks (16,000 to 19,500 pounds) as well as Class 6 trucks (19,501 to 26,000 pounds).
Thunder Creek says it offers a variety of options, such as meters for measuring, security and tracking; reel options and lengths; a 4-micron filter; and color schemes to match the company's trailers.
Written by Don McCloud, managing editor at Equipment World, a partner publication of Hard Working Trucks.