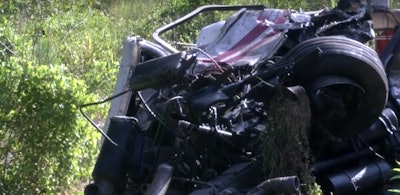 Two drivers were killed today after their trucks collided in Copiah County, Mississippi about 30 miles south of Jackson.
Fifty-year-old Charles Ray Halford was driving an empty log truck east bound on Highway 28 around 6:30 a.m. when he collided with a westbound dump truck driven by James E. Millender, 49. Both trucks were demolished on impact. Halford died at the scene while Millender, who had been carrying a full load of gravel, died later at a hospital in Jackson.
Traffic was backed up as investigators worked to determine the cause of the accident and crews cleaned up the scene. Debris from the collision spread out for about two hundred yards, according to wapt.com.