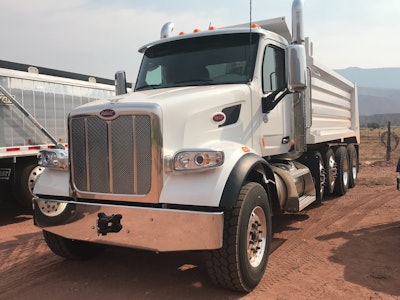 Peterbilt last year seized a record 20 percent of the vocational market – a gain driven largely by its Model 567.
A work truck staple for Peterbilt for the last five model years, the 567 was designed with excellent forward visibility and aerodynamic enhancements.
The concept of an aerodynamic advantage while grossed out with aggregate sounds like a misnomer, but the trade cycle for a vocational truck is more than twice the five-plus year first-service-life of many long-haul trucks. Over the course of a decade, even limited on-highway miles add up.
A Metton resin hood features a steep slope, improving both on-road aero and visibility around congested worksites. There's enough under-hood space to accommodate a 1,438-square-inch radiator for engines up to 600 horsepower. The hood itself is lightweight and the use of molded resin is a design feature intended to stand up to the kind of impact that would crack a conventional fiberglass hood.
Under the hood you'll find one of seven engine options, including two natural gas-fired ones, the Cummins Westport ISL G and ISL G Near Zero. I piloted three engines – Paccar's MX 11 and MX 13, and a Cummins 15-liter – in a test drive last week along the sandy, dirt canyon trails of Gateway, Colo.
The terrain shared by Baja trucks and ATVs, and the 90-plus degree heat that came with it, provided an aggressive two-mile course not unlike that of a large construction site.
Regardless of your engine choice, you'll find no shortage of power and torque.
The MX 11, spec'd in a 115-inch BBC dump truck, featured 430 horsepower and 1,600 lb.-ft. of torque. Stepping up to a larger dump with the MX 13, I picked up an additional 80 horsepower and another 250 lb.-ft. of torque. Paccar's in-house built MX engine was spec'd in 43 percent of more than 41,000 trucks the company built last year.
The Cummins 15-liter was the heavy hauler of the bunch, spec'd to 121-inch BBC truck with 600 horse and 2,050 lb.-ft. torque.
The Model 567 can be matched to one of three transmissions: a Fuller manual, Eaton UltraShift automated and Allison Rugged Duty Series (RDS) automatic. Tony Sablar, Peterbilt's vocational marketing manager, says there's been a notable shift away from manuals off-highway over the past decade – to the tune of a sub-40-percent build rate across the company's vocational segment.
Allison's RDS does a good job of getting the truck up to speed quickly, allowing crews to move more loads per day. It delivers a smooth, seamless, full-power shift with consistent acceleration and easy startability.
The Eaton UltraShift offers plenty of top-end muscle for heavy loads. It uses an electronic clutch actuator for faster shifting and smooth clutch engagement. At idle, it fully engages the clutch giving the driver improved finesse control and its smart shift selection software calculates changes in grade, weight and throttle to determine the most efficient and effective shift points.
Urge to Move and Blended Pedal features enhance low-speed maneuverability in situations like backing into a dock or maneuvering a construction site.
Peterbilt's work truck workhorse doesn't concede comfort for power. The interior features a sound-dampened 2.1 meter-wide cab and a modern dash layout borrowed from the 567's long-haul cousins. The Model 567's all-aluminum cab is enhanced with strategically positioned steel reinforcements – like upper A-pillars and rear corner reinforcements – for extra strength and cab stability.
Tony Sablar, Peterbilt's vocational marketing manager, says safety has increasingly become a point of interest among vocational operators. In response, when ushering the 567 to market in 2013, Peterbilt engineers baked-in several driver safety enhancements. Side visibility was improved over previous generations by pulling the side mirrors in closer to the driver. A single piece windshield gives the driver a commanding panoramic view.
An axle forward configuration repositions the front axle 17.5 inches forward for a better center of gravity and payload balance for mixers or trucks working on bridge job sites.
The company has also made a concerted push to put more and detailed information in front of the driver through the use of a display screen mounted in the center of the instrument cluster.
The level of detail in the display allows the driver to make an informed decision on their course of action should a fault arise. In a mixer application, for example, Sablar says that level of detail could mean the difference in delivering or losing a load of concrete over what would be considered a non-critical maintenance issue.
An efficient truck needs an efficient driver and the Model 567 provides the kind of comfortable environment that attracts drivers and keeps them happy. A multi-functional steering wheel features convenient access to cruise and audio controls and allows plenty of leg room under the dash, giving drivers the space to work and move. Switches are backlit for better visibility at night.
Drivability is improved with a steering gear that is angled about 8-degrees, allowing the steering arm to swing in closer to the frame for a deeper wheel cut and tighter turning radius.
Pod-mounted headlamps are durable, corrosion resistant and easily replaced.
The Model 567 is a popular model for dump trucks but the clean frame rails make the installation for various bodies, auxiliary axles and hydraulic tanks easy.
Available with a 115- or 121-inch BBC, and as a day cab or with a selection of discrete sleeper configurations, the 567 is a versatile customizable tool that can be easily configured for the job at hand.