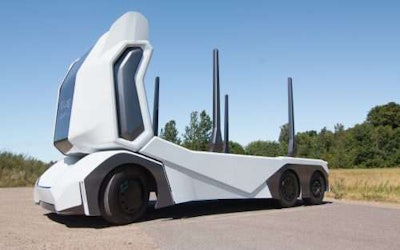 The race to vehicle electrification and autonomy has a new leader in the clubhouse: the logging industry.
Last week at the Goodwood Festival of Speed, Swedish tech start-up Einride revealed its T-log autonomous, all-electric logging truck.
"With the T-log, we've created a vehicle that can withstand the rigors of a demanding environment. It is uncharted territory for us, but also an enormous market for battery-powered AVs," says Einride CEO Robert Falck.
Powered by the Nvidia Drive self-driving platform, the company says its T-log is capable of Level 4 autonomous driving.
The truck doesn't have a driver's cab but can be remote-controlled by a human operator from hundreds of miles away using Phantom Auto teleoperation safety technology.
Falck says removing the cab enables the company to make the truck smaller, increasing loading capacity, adding flexibility, lowering production costs and operating costs, and optimizing energy consumption.
"The driver's cab is what makes trucks expensive to produce, and having a driver in the cabin is what makes them expensive to operate," he says. "Remove the cabin and replace the driver with an operator who can monitor and remote-control several vehicles at once and costs can be reduced significantly. In addition, operating a vehicle from a distance allows for a much better working environment, as has already been demonstrated in industries like mining."
Equipped with cameras – both lidar and radar – the truck has 360-degree awareness of its surroundings with no blind spots, no dead angles.
The truck's 300 kWh battery capacity provides a range of 120 miles, the company says, with a carrying capacity of 16 tons.
Einride hopes to introduce the T-log to public roads by 2020.