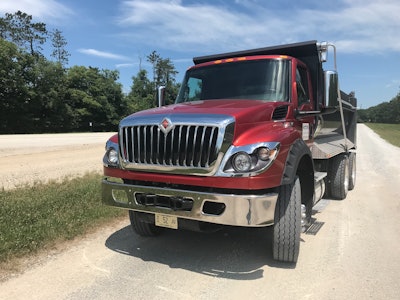 Severe duty and driver comfort aren't two things that usually go hand-in-hand, but the inspired refinement of International's HV Series lineup brings fit-and-finish to an unfamiliar place: the worksite work horse.
Featuring the same imposing hood and grille, the HV appears to be little more than a gussied up WorkStar – and for good reason. The Lisle, Ill., truckmaker used feedback from more than 100 vocational customers to shape the cab design features. With aerodynamic efficiencies well down the wish list, interior and safety upgrades got most of the attention.
The weather on my test drive – a warm, clear summer day in New Carlisle, Ind. – couldn't have been more picturesque and the visibility through the glass could hardly have been more panoramic.
Following cues from International's RH, LT and MV trucks, window sills were lowered and redesigned doors remove the vent window. The improved seals minimize air leaks and wind noise. Pedestal mirrors have been pulled forward, and a low-rake windshield improves visibility. A door-mounted airfoil helps keeps rain water off the side window.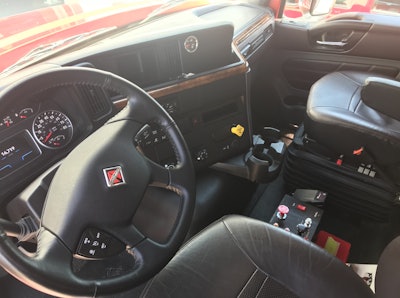 An optional high-visibility hood is available on set-back axle models not equipped with front power take off, adding about 6-inches of downward slope to the grille and a line-of-sight improvement of about 7-feet to the ground. With an inside wheel cut of up to 50 degrees, the added visibility makes navigating tight turns and crowded streets easier and safer.
A new premium instrument cluster – the same unit featured prominently in the LT, RH and LoneStar – sits center of the driver, complete with driver information display. On upper trim levels you can get a larger screen that allows the driver to customize virtual gauges, pulling analog dial-based data off the dash panel and putting it in the driver's field of view.
The gear selector for the standard Allison 6-speed automatic has been moved to a stalk on the steering column and features an integrated engine brake. The wing panel has been redesigned to increase knee room and an AC vent has been added for center seat riders.
You'll want to spec a flat panel if you're part of the three-person crew. The wing takes up some of what would be the center-rider's legroom but if you're a two-man group, the controls on the wing are easier for the driver to reach and that extra vent pumps out chilly air from the upgraded HVAC system on those hot construction jobs.
The dash panel has space for up to 30 customizable switches ensuring functionality for any type of body upfit. The switches, which were made larger so drivers can use them more easily while wearing gloves, also feature large easy-to-read text and are back lit for easier night viewing.
The fuse panel has been integrated in the top of the dash, another nod to the LT and RH.
The HV Series uses International's Diamond Logic electrical system for the automation of tasks and interlocks to help protect both equipment and crew and ease the process of body upfitting. The Diamond Logic electrical system offers nearly 200 factory-available body integration and driver efficiency features, plus the ability to customize more vehicle functions.
In a dump configuration, for example, a fleet can software limit the truck's top speed while the bed is extended. That allows drivers to spread sand or gravel but prevents them from hitting the highway before lowering the bed.
Under the truck you'll find a Super Single half-inch thick fame rail rated up to 3.35M RBM and an integral – not bolt on – 20- and 27-inch frame extension that adds rigidity. For serious off-road applications, 20,000 lb. off-set bowl front drive axle allows for a lower ride height than a traditional center bowl and cross member anchored tow loops prevent frame twisting.
Unlike its beefier brother the HX Series, all-wheel-drive is available on the HV for service applications like crane and boom operators. Configurations range from 4×2 to 8×6 and BBCs of either 107- or 113-inch and set-forward or set-back front axles are available. A clean Cab-to-Axle configuration is also available. The HV comes standard with International's A26 engine with a Cummins B6.7 or L9 engine available as options.
My test unit was outfitted with the A26. The 475 horsepower and 1,750 lb.-ft. of torque power plant was more than enough to force a truck that grossed just south of 44,000 pounds over a mixture of off- and on-highway conditions.
HV comes standard with air disc brakes, which come in handy with 5 tons of sand pushing you down steep grades. Severe service has been one of the most ardent supporters of drum brakes but the extra stopping power, coupled with ease of maintenance, makes a strong argument in this segment.
With the HV, International is targeting lighter-duty vocational applications that don't need the brawn of an HX and want some of the comfort and finesse that comes from the company's on-highway lineup.