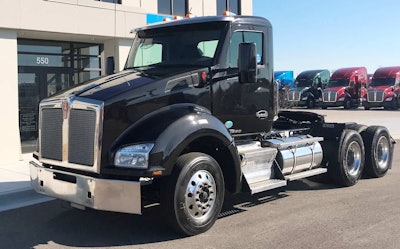 Kenworth announced the launch of kenworthcertified.com, a dedicated website for the company's certified pre-owned program. The website features a listing of pre-owned certified trucks from participating Kenworth dealers.
The website also contains program information, including a downloadable brochure, program benefits and eligibility requirements, as well as specific information related to pre-owned PACCAR engines warranty coverage.
Available in the U.S. and Canada, the program offers top condition Kenworth Class 8 trucks. To qualify, each Kenworth Certified Pre-Owned Class 8 truck must be four (model) years of age or less, have mileage under 450,000 miles, and pass an extensive 150-point inspection completed by Kenworth certified technicians.
"Kenworth builds Class 8 trucks that deliver long service lives. The Kenworth Certified Pre-Owned Program leverages this performance to provide the second owner of a Kenworth truck both a solid investment and comprehensive warranty," said Kurt Swihart, Kenworth marketing director.
When equipped with a PACCAR MX-13 engine, a Kenworth Certified Pre-Owned truck is standard with a PACCAR Engines Pre-Owned Warranty. This industry-leading, one-year, 125,000-mile warranty covers 105 components on the engine and aftertreatment system. On trucks powered by PACCAR engines, Kenworth also offers a 90-day buyer assurance warranty that provides protection on 135 components, ranging from the HVAC system to select cab and sleeper components.
For buyers of Kenworth Certified Pre-Owned trucks, there is also a $1,000 rebate for those buyers financing through PACCAR Financial for the first time. In addition, all new owners will receive a Kenworth loyalty card, which provides discounts on truck parts and accessories, and a free Kenworth-branded gift.
During the Mid-America Trucking Show (March 22-24), Kenworth has four Certified Pre-Owned Kenworth trucks on display and for sale in its booth (No. 30285). They include three Kenworth T680s with 76-inch sleepers, and one T880 Day Cab.