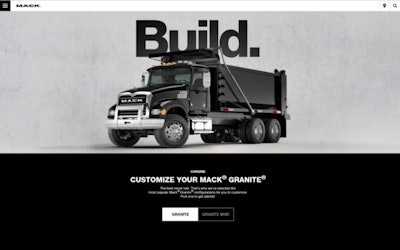 Mack Trucks has launched a new online tool that enables customers to build and customize Mack Granite and Granite MHD models.
Tim Wrinkle, Mack construction product manager, says the Mack Trucks Configurator presents customers with recommended specs for seven Granite applications, plus six more for the Granite MHD.
"Customers can then tailor several spec options to create a truck that best fits their specific needs," he says.
Applications covered include tractors, concrete mixers and dumps, as well as rear loaders and roll offs for refuse. Once an application is selected, customers can select exterior, interior and chassis components, along with engine, transmission and axle choices. A 360-degree view of the exterior lets customers see their choices first hand.
Once complete, customers have the option to send the configuration to their local Mack dealer for additional information and quoting. The shared configuration is also streamlined with Mack's sales quote and ordering system, allowing customers to easily receive a quote on a new Mack Granite or Granite MHD model quickly.