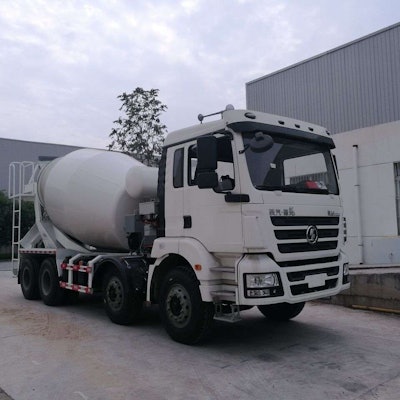 Two Chinese automotive companies have paired up to create the world's first plug-in hybrid electric (PHEV) cement truck.
Efficient Drivetrains, Inc., which produces zero emissions hybrid and electric drivetrain solutions, teamed up with Shannxi Automotive, a medium and heavy duty truck manufacturer, to build a Class 8, 32-ton cement mixer.
An EDI PowerDrive 8000 PHEV drivetrain and EDI PowerSuite vehicle control software power the truck and are designed "for rapid technology adoption for the construction industry," according to EDI's press release. The truck is scheduled to roll out later this year for the Chinese market where the government continues to battle air pollution attributed to increased factory production, construction and vehicle use.
"With the integration of EDI's drivetrain and vehicle control software into the Class-8 PHEV cement mixer truck, fleet operators will benefit from significant reduction in fuel consumption, and eliminates the need for engine idle by electrifying the operation of the mixer," EDI's press release states. "Truck operators will experience the expected full power vehicle performance of the OEM, while eliminating harmful emissions. The demonstration vehicle also utilizes a low-cost drivetrain system, which makes electrification of construction vehicles an affordable option for OEMs in China."
EDI is no stranger to the growing industry of vehicle electrification.
"We continue to see a continuing and expanded industry trend towards the electrification of medium and heavy duty trucks across the globe," said EDI CEO Joerg Ferchau.
"EDI established a market leadership position early on with our differentiated portfolio of hybrid and electric drivetrain offerings, and we continue to innovate to drive change for the commercial vehicle industry," Ferchau continued. "Our careful selection of distinguished influencer partnerships-like those of Shaanxi, and platform deployments on other major OEMs like Freightliner, Peterbilt, GM, Ford, International, and others, has positioned the company well to capture the market share."