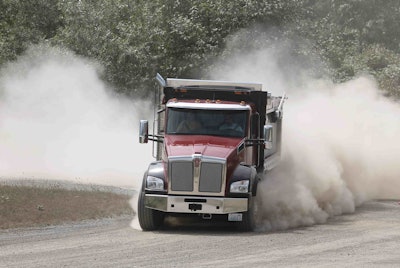 Note: Part 1 takes a closer look at Kenworth's T880 sales and new products. Part 2 tomorrow will examine increased truck connectivity through Kenworth's TruckTech+
Whether it was new dealerships, more connected trucks, more service centers, a stronger warranty, new products or a strong first half in 2017, Kenworth had plenty of good news to report recently at its headquarters in Kirkland, Wash.
First up in the hour-long meeting came the news that first-half demand in 2017 for Kenworth vocational trucks is on the higher end of expectations owed to a strong construction market.
"Whether you're talking vocational or just the market in general in North America, the underlying fundamentals all remain very positive and I certainly think we're seeing that in the vocational segments all through the course of the year," said Mike Dozier, Kenworth general manager and PACCAR vice president.
Dozier's comments came amid slides showing upticks in the consumer confidence index, housing starts, total construction spending and U.S. GDP growth rate.
"The bottom two slides where we see total construction spending and housing starts, I think there's a pretty good alignment with what we're seeing in sentiment within the industry and certainly within the vocational segment, so our expectations are that it will continue. I think it's played out very well," Dozier explained.
While recent Kenworth press releases regarding T880 and T880S sales have been impressive, the earlier outlook in Kirkland hadn't been as encouraging.
At the beginning of 2017, market uncertainty compounded by the presidential election had Kenworth execs wondering where they might end up in their forecast sales of 190,000 to 220,000 units.
"We would have probably said that we'll be on the lower range of that band—that 190,000 to 220,000 and now we're in the upper range of that band," Dozier said. "And a key part of that has been the vocational segment like I said. I think it bodes well for the remainder of the year."
Helping in sales, of course, are a growing number of Kenworth dealerships. The company finished 2016 with 382 dealerships and 4,700 service bays.
"We'll be seeing that growth from 382 to 400 locations (by the end of the year). We'll see similar growth in bays," Dozier said.
Dozier credited dealers for ponying up and investing $600 million over the past five years in new facilities and upgrades to existing facilities.
"That level will continue based on their forecasts in work we do together to identify whether it's white spots (areas with unmet needs) or just additional capabilities that we need in the network," he said.
"Summarizing that all up…the vocational market has just been a terrific positive throughout the course of the year and we're looking for that to continue. We're hearing it from customers and we're seeing it just in activity and orders. We're just very, very pleased with how the year's progressed thus far and we look forward to more of that."
New Products and Impressive Warranty
Following Dozier's sales report, Kenworth's assistant general manager of marketing and sales, Kevin Baney, reminded reporters of the company's dedication in expanding its product line-up.
Demand for its new T880S has been high. In fact, at CONEXPO-CON/AGG earlier this year in Las Vegas, five of the seven trucks Kenworth brought to the show—which is held only once every three years—were T880S models.
Baney said when compared to the W900S, which was designed for Redi-Mix, the T880S is a lot more versatile.
"I mentioned the shorter hood, so with the 114-inch BBC (bumper to back-of-cab), what that allows us to do as the cab moves forward six inches is to increase our capacity on our dump and for bigger bodies, more payload and just shows the flexibility and the versatility of the T880S," Baney said.
In March, Con-Tech Manufacturing President Dan Welsh said the market response for both the T880 and T880S had been tremendous and that his company expected that 80 percent of their Kenworth builds would be for the T880S. Welsh credited the truck's larger cab, increased visibility, dash layout and modern look for attracting more customers.
Kenworth is betting on gaining even more attention with its latest addition to the PACCAR powertrain family: the PACCAR 20K and 22.8K front axle. Production is already underway.
"It is our proprietary design," Baney said. "One thing that we're really proud of? We're offering a 5-year, 750,000-mile warranty (on the new axle)."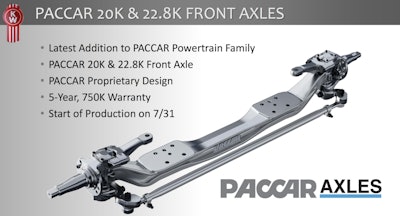 Thinking of a T880 6×6? Kenworth's got that covered, too.
"Another option is a Marmon-Herrington steer axle. It's a front-drive axle. You can see that it's 22k and available with FABCO single and two-speed transfer case and that just supports additional applications like the oil field, crane, wrecker, water truck," Baney said. "And again, like the T800, we want to make sure that we offer the same flexibility and versatility to support the different applications."
For customers looking for a little more chrome, Kenworth will be offering a bright trim air intake that is now available in the aftermarket and can be retrofitted on the T880.
"This has been a very high request. And that's why we made sure we've made it available in the aftermarket for retrofit is we see it to be a fairly high volume for PACCAR parts," Baney said.
Another new addition available under the hood of an MX-13 equipped T880 is Kenworth's vocational variable speed fan drive. Benefits of precise fan speed control include increased horsepower, improved fuel economy, less noise and vibration and reduced dust generation.
Cummins-Westport made headlines earlier this year with the introduction of its ISL G-Near Zero natural gas engines. Baney said Kenworth is proud to offer the engine and thinks it will go over well in markets that are striving for lower emissions.
"It's 90 percent lower than current NOX," Baney said.
When spec'd in the T880S Nat Gas Mixer, the 8.9 liter Cummins-Westport ISL G-Near Zero engine will deliver 320 horsepower and 1,000 lb.-ft. of torque.