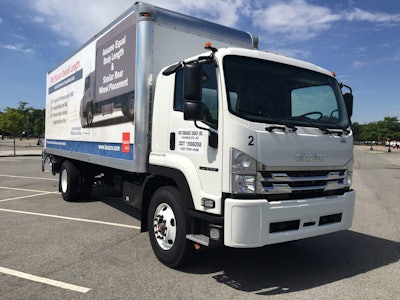 Isuzu has been the best-selling import commercial truck in the United States every year for 30 years, and it hopes to carry that banner forward with the reintroduction of its Class 6 entry.
The 2018 FTR, which launched last month, was shelved during General Motors' bout with bankruptcy in 2009, but when GM elected to resurrect its medium-duty cabover line in a partnership with Isuzu in 2015, that gave rise to the FTR's rebirth. Despite a production hiatus eight model years ago, about 25,000 Isuzu F-Series trucks – badged either GM or Isuzu – remain in the market.
The Michigan-built 2018 FTR – the company's first truck to be principally designed, engineered and built in the U.S. – gets the same 5.2-liter four-cylinder 215-hp diesel engine offered in the upper end of Isuzu's N-Series, but its match with an Allison six-speed automatic transmission with left-hand power-takeoff capability gives the powertrain about 70 more foot-pounds of torque – up to 520 lb.-ft. Isuzu opted for the Allison 2550 transmission over the Allison 2500 for the inclusion of a parking gear, making it safer for drivers with limited experience using air brakes.
The FTR's standard inline four-cylinder engine is a first in the segment, reflecting a change of taste for fleet customers in search of faster payback and improved efficiency.
"I can't tell you the last time I had to tilt the cab to show the engine to a customer," says Shaun Skinner, president of Isuzu Commercial Truck of America. "As long as it does the job, they don't care."
Skinner says the medium- and heavy-duty truck segments are just beginning to follow the light-duty segment in the movement to drop engine cylinders two or four at a time.
"With the technology we have today, we're getting so much more power and so much more torque from a four-cylinder engine than we've been able to before," he says. "With the exception of performance cars, you don't see a V8 [in a passenger car] much anymore."
For the 2009 model year, the FTR featured a 7.8-liter diesel – the second-largest standard engine on the Class 6 market at the time – with the same 215 hp as the 2018 model, but only 4o more foot-pounds of torque, and Isuzu's torque number was the segment leader. Today, the 2018 FTR features the smallest standard engine by a liter-and-a-half but offers the same torque as other comparable models, with the exception of the Ford F-650 and its 675 lb.-ft.
Featuring a 25,950-lb. GVWR, the FTR features a body/payload allowance of up to 15,690 pounds, about 3,000 pounds more than the NRR.
Eight wheelbase lengths – ranging from 152 to 248 inches – accommodate bodies from 14 to 30 feet at true dock height, and FTR's low-cab-forward design also dramatically increases visibility while improving maneuverability with an inner 50-degree wheel cut.
That wheel cut and visibility stood out on a brief cone-riddled maneuverability test this week in the parking lot around Citi Field, home of the New York Mets.
The 2018 Isuzu FTR is designed for city delivery applications such as beverage, box and refrigerated box trucks, and that capability really shines in tight corners. Skinner expects those applications to drive Isuzu's growth in the years ahead. The company's market share hit 85 percent in 2016, and as consumer buying habits evolve, sales of medium-duty trucks are expected to outpace their heavy-duty siblings.
"Goods aren't being delivered to stores in large bulk," Skinner says, noting a shift to online shopping. "They're being delivered directly to your home by medium-duty [trucks]."
Medium-duty truck sales are expected to be further goaded by population forecasts calling for increased density in urban areas that already have 1 million people or more.
"You're going to have to have a lot of trucks to deliver goods in those urban markets," Skinner says. "What better truck than a low-cab-forward?"
During independent third-party testing held in Phoenix last December, Isuzu's FTR was pitted against other players in its space: a Kenworth K270, an International 4300, a Hino 268A, Freightliner's M2 and Ford's F-650.
Isuzu's 5.2-liter in-line four-cylinder took first place in fuel economy on both a 120-mile city route that included 24 stops and a 180-mile mountainous trek with a three-and-a-half-mile 6.5 percent grade and extended climbs reaching more than 3,000 feet. In the city route, FTR trounced the second-place truck by 16.4 percent, and more than 22 percent over last place.
Tim Ellsworth, manager of product planning for Isuzu Commercial Truck of America, says official fuel economy numbers won't be available until later this summer, but in routine testing to-date, the FTR is averaging 9.2 to 9.9 mpg, while short-term running averages consistently have topped 10 mpg.
Testing also placed FTR in first place for maneuverability by more than 3 inches, thanks partly to that 50-degree wheel cut. In my test around Citi Field, the FTR flew through tight zigzag turns, while competitive conventional cab models felt far less effortless traveling the same alleys. For the 2018 model year, Isuzu has removed the lower door window from the previous-generation FTR, but even so, conventional cab trucks lacked the same corner visibility as the cab-forward FTR. The tighter the turn, the fewer cones I could see.
FTR took third and fourth, respectively, in acceleration tests, and fourth and tied for third in two braking tests. The FTR is equipped with S-cam drum brakes.
The fully adjustable air-ride seat was comfortable, and the cab features a control layout similar to the N-Series, making for a smooth transition from truck to truck. The middle seat folds down, but the driver and passenger each have their own captain-style seats versus the split bench common in the N-Series. There's about 20 inches behind the seat, providing ample storage space.
Isuzu expects to produce roughly 1,200 FTR trucks this year as they slowly ramp up production. From my brief time in a couple of demo units this week around where Shea Stadium once stood, it feels like the company has hit its re-entry into the medium heavy-duty market out of the park.