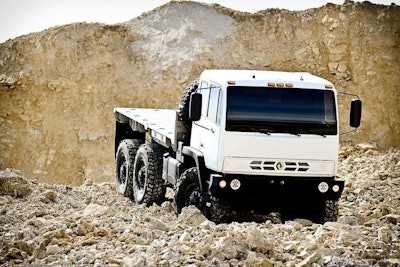 You know…there's a truck for that.
Acela Truck Company will be debuting its extreme-duty Monterra truck line at the upcoming Global Petroleum Show in Calgary, Alberta, Canada.
The Monterra 4×4 and 6×6 cabover trucks, which meet the U.S. Army's coveted 'ultra-reliable' status, are marketed for commercial markets that demand high performance off-road trucks including oil and gas, mining, utilities, fire departments, pipeline construction and forestry (see video below).
As the newest commercial truck chassis provider, Montana-based Acela is aiming to disrupt a market that hasn't seen new competition in decades. The company uses a proprietary process to reset U.S. Army Family of Medium Tactical Vehicles (FMTVs) to a near zero-mile condition.
"When looking at mining, oil and gas and utilities operations, a more durable, capable and extreme truck has been in high demand for years," said Acela president and CEO David Ronsen. "We're here to fill that niche need and help our customers improve productivity while cutting their capital costs with the most capable truck chassis they've ever had."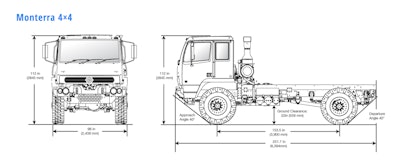 When fully-loaded, Acela reports that the Monterra 4×4 and 6×6 boast 8 inches more ground clearance than any other truck in their class, which keeps the transmission and drivetrain components free of caked on mud, bitumen and other drivetrain-killing debris.
Key features of the 4×4 and 6×6 Monterra include full-time all-wheel drive, 330-hp Caterpillar 7.2-liter turbo-charged diesel, Allison 7-speed automatic transmission, 30-inch water fording capability, top speed of 74 mph (with high speed gearing), central tire inflation system, multiple 4×4 and 6×6 variants with 80 percent parts commonality, U.S. Army Ultra-Reliable certification, Meritor RF-611 Series axles, and E-Coat corrosion protection.
Popular options for both trucks include high-speed gearing, air ride seating, 3-person cab, back-up camera, back-up alarm and trailer-tow package.
The 6×6 offers up to 31,000 lbs. of payload capacity and can tow up to 21,000 lbs. Payload max for the 4×4 is 15,300 lbs. and towing tops out at 12,000 lbs.
Acela also sells a 6×6 Class 8 tractor-trailer. The cab-over fifth-wheel features the same specs listed above for the Monterra line, save for towing, which maxes out at 63,000 pounds.

Acela can also deliver Monterra vehicles with factory-direct, fully-customized bodies including flat decks, cranes, service bodies, crew buggies, dry vans, fire trucks, ambulances or snow plows.
Acela embarked on developing its powerful line of vehicles after several of their Canadian Oil Sands clients approached Ronsen explaining that there wasn't a truck that could handle the extreme, rugged environments of the Canadian Oil Sands with a long life-cycle and a cost-effective price point. Versions of the Monterra have proven themselves in the mines for over seven years with a 96 percent documented uptime.
Acela will join Canadian truck body builder Brutus Truck Bodies at the Global Petroleum Show June 13-15.
"The Monterra is undoubtedly the most extreme-duty truck ever introduced into the Canadian Market," Brutus CEO Curtis Turchak said. "We are proud to be part of the official launch of Acela. We're confident that this line of trucks will be the number-one choice of chassis in the Canadian Oil Sands and related markets."
FMTVs were originally developed for the U.S. Army to withstand the harsh conditions of combat, and have achieved the Army's 'ultra-reliable' status for the past 17 years. Acela's proprietary reset process restores FMTVs for commercial use.
Acela reports that its first model of trucks, the Monterra, has the industry's most robust and dependable design features, including drivetrains, frames, axles, suspensions, tires and other components specially designed to withstand the rigors of the most extreme environments while maintaining driver comfort.
The four pillars of the Acela Truck Advantage are:
Total Cost of Ownership
Ease of Maintenance
On or Off-Highway Capability
One-Year Warranty
For more information, visit acelatruck.com.