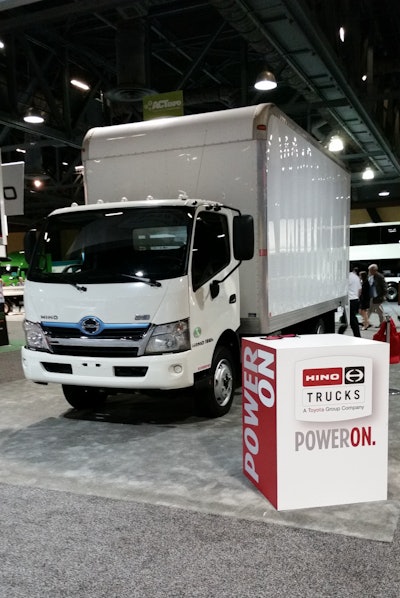 Combine the proven, best-selling hybrid technology of a Prius with a medium-duty diesel truck and you've got the 2018 Hino 195h.
Designed for landscape and pick-up delivery work, the 5.0-liter 210-hp four-cylinder diesel-electric delivers up to 440 lb.-ft. of torque through a six-speed, PTO-capable Aisin transmission.
Of course, getting up to 30 percent improvement in fuel economy is always a plus.
The 2018 195h is the fourth incarnation of the hybrid cab-over in the U.S. The same technology has been busy at work in Japan and other markets for the past 20 years.
The truck's center-mounted 30-gallon tank is paired up with a 4.7-gallon DEF tank. Biodiesel compatibility is up to 20 percent, while renewable diesel compatibility has yet to be determined.
"They've done some testing in Japan, but I don't know if they're ready to do anything with that yet," explained Spencer Nicol, Hino's senior manager of strategic product applications.
Over 2,000 of Hino's diesel hybrids have been put to work in California, while another 500 work elsewhere around the country, Nicol said.
Though lithium-ion is often the battery of choice in hybrids, the Hino 195h squeezes its juice out of a 288-volt Ni-MH (nickel metal hydride).
The truck's Gross Vehicle Weight (GVW) is rated at 19,500 lbs., while the Gross Combined Weight Rating is 25,500 lbs. Four wheelbase lengths are available (inches): 137.8, 149.6, 161.4 and 173.2.
Popular optional equipment includes the following:
Black, red, yellow, blue or green exterior cab paint choices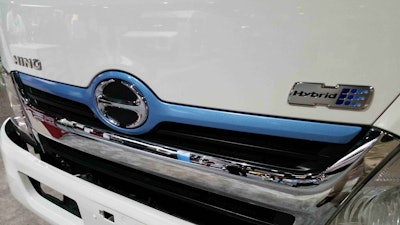 Limited slip differential
Engine idle shutdown
Floor mats
Front bumper fog lamp – white halogen
GVW de-rate 17,950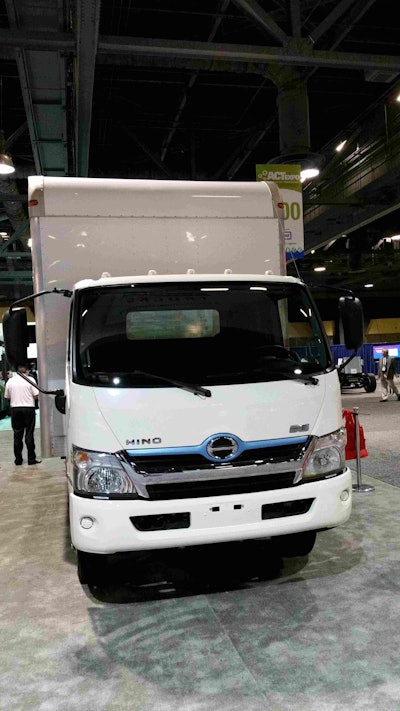 Magnetic suspension driver's seat
Orange seat belts, driver and passenger
Programmable speed limit: 65, 70 mph
Cold package
Keyless entry
Hino Trucks, a subsidiary of the Toyota Group Company, offers a standard 5-year, 200,000-mile warranty (optional 7-year, 150,000 miles); an optional preventive maintenance service program through Hinocare; 24/7 roadside assistance through Hinowatch; standard 1-year Telogis Telematics through Hino Insight (optional 3 and 5 years); 5-year remote diagnostics and case management programs are standard for five years.