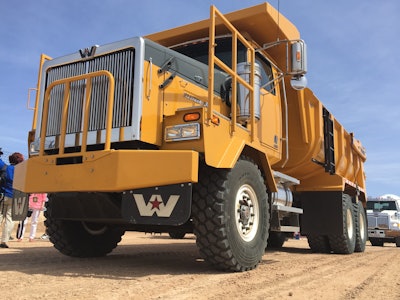 A year after announcing plans to add an Extreme Duty (XD) off-road package to its lineup, Western Star this week unveiled the second member of the XD family.
Initially offered on the flagship 6900 as the XD-40, this week at its 50th anniversary celebration in Phoenix Western Star debuted its XD-25 – a hulked up 4900 with 25 tons of capability.
XD off-road suspensions offer maximum ground clearance. Using a double-slippered spring suspension, springs are controlled with heavy-duty track rods that eliminate the need for spring pins. That allows the spring packs to slide on wear pads without shock loading.
Its 3/8 x 3 & 1/2 x 10 & 3/4 inch double channel 120 KSI steel frame gives the truck a rigid backbone and great stability, but Western Star's planetary gear sets give the truck the capability to haul massive loads while still keeping the chassis accessible for maintenance.
The XD-25 will be powered by a Detroit DD13 next model year, but XD-25s built this year can be equipped with either a DD13 or a Tier 3 Series 60.
The XD-25 is a torque monster, but equipped with a high-speed planetary that gives it a top speed of about 65 miles per hour it's highway capable. The Series 60 engine puts out about 505 hp and 1550 lb. ft. of torque – about a 300 lb. ft. less than you'll be able to squeeze from a DD13 at a lower RPM.
All that torque is traveling through an Allison 4500 RDS Automatic.
There was ample power to blast up some fairly steep grades on my test drive and while this truck isn't going to break any land-speed records, you'd be challenged to find a scenario where it can't deliver the torque needed to get the job done.
The XD-25 features a 22,000 pound front axle and a 70,000 pound tandem axle in the rear with an 85,000 pound Chalmers suspension. John Tomlinson, XD and vocational sales manager for Western Star, says the Chalmers suspension has become a standard across the XD lineup because of the articulation it provides. A 23,000 pound front axle will be available in September when the DD13 becomes the standard engine.
For a truck of its size, the XD-25 has a shockingly tight turning radius – a feature that will be carried over to newer model XD-40s.
Western Star Vice President Peter Arrigoni says the XD lineup was designed to be more truck-like for ease of maintenance. Butterfly hoods provide easier engine access and point-to-point wiring with an in-cab fuse panel simplify diagnostics. A quick disconnect system which allows the entire fender and air cleaner to be easily removed in one piece for larger engine work. But while the process of engineering the truck may have been truck-like, the XD-25 is certainly a worksite warrior.
When Western Star debuted its XD lineup last year, the company set its sights on developing a consistent and repeatable chassis spec that allowed for easy parts availability and quick maintenance.
Mission accomplished.