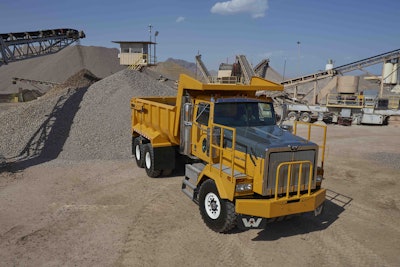 Western Star is adding a 25-ton capacity option to its XD Off-road lineup the company announced in Phoenix, targeting smaller, off-road construction, mining and quarry site hauling operations.
At the launch event Thursday celebrating the company's 50th Anniversary, Western Star Trucks President Kelley Platt said the units are specifically designed to handle off-road jobs without compromising fuel economy and cycle time efficiency.
"It opens up another option for the rigid-mount, the traditional yellow iron, customer," says Peter Arrigoni, vice president of Western Star, "and it's probably the only market that we are the cheapest."
"With a vocational truck, we have to be able to build exactly what the customer wants," Platt adds.
For the rest of this year, the XD-25 is available with a Tier 3 Series 60 or Detroit DD13 engine. In 2018, the truck will only be available with a DD13. It is matched to an Allison Off Road Series (ORS) transmission and planetary gear sets.
Additional features found with all Western Star XD Off-road products include rugged slippered spring suspensions, simplified maintenance components and metal fender butterfly hoods for added durability.
Also Thursday, Western Star announced several new options available to other trucks in its lineup.
• RollTek Seats, which feature side-impact airbags, are now available for Western Star 4700, 4800 and 4900 truck models. The RollTek seat system also tightens seat belts and compresses air suspension seats to the lowest position to prevent serious injuries to the driver in the event of a rollover.
• New sealed frame rail for Western Star 4700, 4800 and 4900 truck models, reduces corrosion on double channel and partial liner configurations. Sealed along the edges, the flexible water-tight seal prevents the intrusion of liquids and minimizes rust that might occur due to environmental factors and road de- icing products.
• Abrasion tape for exterior harnesses for Western Star 4700 and 5700 truck models helps improve durability. Each harness is wrapped in an abrasion-resistant seal and then fastened securely to the frame rails to prevent damage to the wires from debris, water and chafing.
• An aluminum diamond plate battery box that features cab access and increased ground clearance is available for the Western Star 4700.
• The Western Star 4800 and 4900 have an optional Detroit 23,000-lb front steer axle that is up to 40 lbs. lighter than other brands.
• An aftermarket-installed five-man crew cab for Western Star 4700, 4800, 4900 and 6900 truck models can now be spec'd with either two or four doors. A 12-dash inch backpack is also available for additional storage.
• The Western Star 5700 is now available in a truck configuration for expeditor and RV applications in a day cab or sleeper.