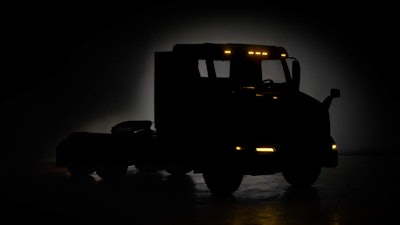 Volvo Trucks North America released two videos Wednesday teasing its new VNR regional haul model. Developed for bulk transport, flatbed, liquid tankers, port drayage and other urban pickup and delivery operations, the truck is expected to make its public debut next week at ExpoCam in Montreal.
Göran Nyberg, president of Volvo Trucks North America, says the VNR "is wholly reimagined inside and out," melding a modern, connected cab with bold exterior lines and optimized efficiency.
"We expect that the VNR's bold, dynamic appearance will change antiquated perceptions of what trucks should look like," he says.
In the videos, Volvo Trucks offered a sneak peek of the re-styled truck to people with mostly no connection to the trucking industry and filmed their descriptions of what they saw.
Volvo Trucks has been adopting automotive features to help make driving commercial trucks easier and created a state-of-the-art driving environment to help attract drivers. New features include an industry-first steering wheel that tilts like a car's, more ergonomic seats, an advanced infotainment system and a new instrument cluster with many new functions in the driver information display.
The updated truck also includes an updated version of the Volvo I-Shift automated manual transmission and Volvo's I-See predictive cruise control, enhanced passive safety features and Volvo Active Driver Assist.