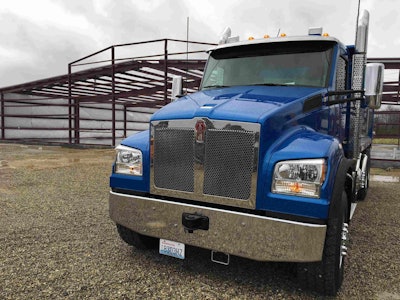 Last September, Kenworth announced it would add a set-forward front axle configuration to its T880 and those trucks entered production early last month. This week, I flew up to Kenworth's assembly plant in Chillicothe, Ohio to watch one roll off the assembly line and to hop behind the wheel for a roughly 100 mile drive.
The T880S, at its core, is a T880 but with some added features that improve upon the W900S model it will likely replace. Kenworth's venerable W900S was practically purpose built for mixer operations but adaptable enough to find itself in a variety of vocational applications.
The T880S was designed with more flexibility right off the assembly line, making upfitting easier, more customizable and more streamlined.
The truck is available with a 114-inch BBC – about 6 inches shorter than the W900S – and best-in-class 28-inch bumper setting. The bumper setting on the T880S is especially important in spec'ing a chassis that is compliant with the Federal Bridge Formula.
More typical for dump applications, a 29.5-inch bumper setting is also available as is a 31.5-inch sturdy box bumper.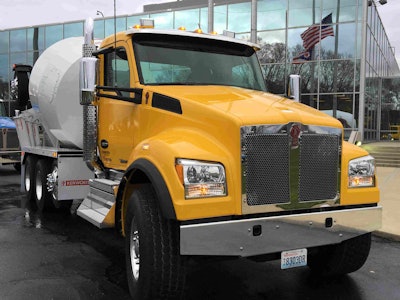 Truck operators can spec mixer tapered (114-inch BBC), dump tapered (115.5-inch BBC) or straight box bumpers (117.5-inch BBC) in a variety of finishes and materials, and removable cast center-mounted tow hooks are available depending on bumper selection.
The T880S comes standard with an MX-13 engine that kicks out 510 hp and 1,850 lb-ft of torque. The EPA17 MX-13 powering my dump truck model was powerful and flexed serious muscle hauling 10 tons of sand around southern Ohio. The Eaton UltaShift Plus really shined in stop-and-go traffic, effortlessly dragging 20,000 pounds of material around surface roads and the highway.
For the weight-sensitive – like mixer applications – a 400 pound lighter MX-11 engine will give you 430 hp and 1,650 lb-ft of torque. By dropping a little weight under the hood, customers can pack on a couple more yards of concrete. The Allison 4700 seven speed automatic transmission in my test truck was smooth and comfortable, making runs to and from the jobsite for more payload far less taxing on the driver.
The cabs in both trucks are a marked improvement from the legacy W900S. It's larger, more comfortable and quieter. With a 3.6-inch lower hood crown than the W900S, the T880S enhances visibility with up to four additional feet of ground visibility and its panoramic view is remarkably noticeable from the driver's seat.
The new T880S is available with a set-forward front axle ranging from 14,600 pounds to 22,800 pounds. Single, tandem or tridem drive axles and a wide variety of factory-installed lift axles are among a range of options available and the T880S also features clear back-of-cab options that make it easy to configure the truck body.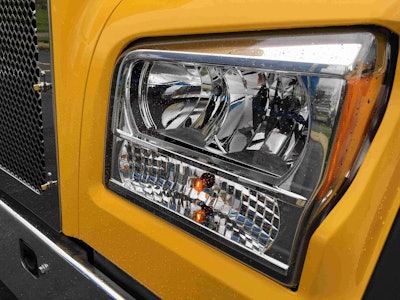 A newly-styled, complex reflector halogen headlight provides projector beam lighting performance and a polycarbonate lens and UV inhibitor offers extended life. Basically, the headlights are the same as what you'll find on the T880, they're just designed upside down to allow for tire clearance.
The truck's 5-piece hood, made from a lightweight high-tech material that Kenworth says is tougher and more durable than fiberglass, is borrowed from the T880 along with bolt-on fenders the company says can be replaced in under two hours in the event of a body repair.
Also available are 2.5-inch and 4.5-inch wide fender flares that match spec'd front tire widths and help keep dirt off the side of the truck.
As Kenworth works toward ushering out the W900S, a model that's been a vocational staple for almost a generation, it makes sense to do so with some of the designs and technologies that have made the T880 a success. The switch, to-date, has been well received. About 800 are currently on order and the backlog is filled through about June, with many of those customers being W900S converts.