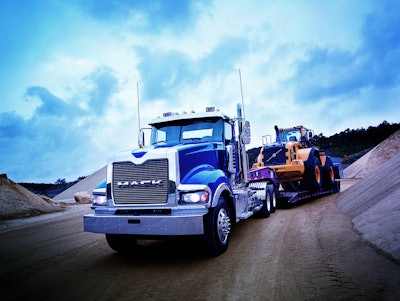 Mack Trucks confirmed today that its Titan tractor and MP10 engine have been discontinued.
Current Titan orders will not be affected, Mack Public Relations Manager Chris Heffner told Hard Working Trucks.
"The Titan by Mack model is being discontinued because many of the applications that the Titan served can be handled with the newer higher horsepower and torque outputs of the Mack MP8 13-liter engine," Heffner explained.
When asked if Mack would be replacing Titan with another model, Heffner responded: "Most applications previously served by the Titan by Mack can be handled by the Mack Granite or the Mack Pinnacle Axle Forward model equipped with the MP8 engine."
Earlier this week, HWT's sister publication Commercial Carrier Journal reported that Mack parent company Volvo Trucks had discontinued production of its 16-liter engine and its VNX tractor, a model similar to Titan. The company reported that market conditions led to the decisions.
Titan, which has been on the market since 2008, will still be eligible for Mack's aftermarket service and support.
Mack's 2017 MP8 engine with turbo compounding converts wasted energy from the exhaust into mechanical energy, improving fuel efficiency by up to 8.8 percent, while the Mack mDRIVE HD 13- and 14-speed AMTs add creeper gears for enhanced startability without sacrificing fuel efficiency. Mack is also testing a Mack LR model with the Wrightspeed Route range-extended electric powertrain and alternative propulsion systems, including a plug-in hybrid electric drayage truck.
Titan boasted Mack's largest ever engine, the MP10, built for heavy transport applications.The MP10 delivers up to 605 horsepower and best-in-class torque ratings of 2,060 lb-ft. at 1,200 RPMs.