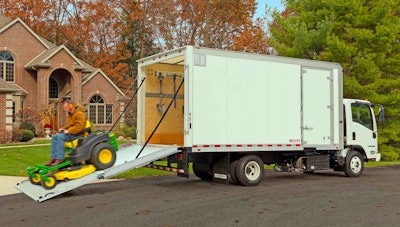 Morgan Corporation has launched a new truck body aimed at lawn, landscape and nursery professionals.
The company's new ProscapeVan offers an easy-to-deploy corrosion-resistant aluminum ramp with a 2,500 lbs. load capacity. The fold-over ramp has a heavy duty steel articulating hinge to compensate for uneven ground surfaces.
A "smart" interior configuration increases usable floor space, versus an internal dovetail design. The open interior layout maximizes space for tools, materials and equipment.
A variety of custom options including lighting, flooring, tie-down, and rack systems are also available.
The subframe features a 3 inch I-beam crossmember construction on 12 inch centers with 4 inch longrail. Mylar tape is applied between all steel subframe components and extruded aluminum lower bottom rails to prevent corrosion.
The floor is one-and-1/8 inch laminated hardwood fastened to the subframe with two countersunk screws per floor board per cross member in a staggered pattern. Floor boards are ship lapped and pre-undercoated for protection from elements.