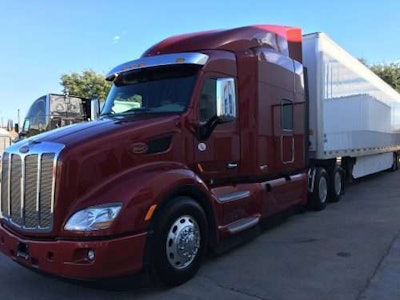 As more OEMs lean on in-house engineering to boost uptime and fuel economy, vertical integration in today's trucks is as standard as air conditioning.
With about 50 percent of all new Paccar trucks getting the company's MX engine this year, the truck maker put its efforts into a proprietary rear axle for the 2017 model year.
Peterbilt Director of Product and Media Marketing Jorge Medina says the company's new axle can provide more than 1 percent added fuel economy thanks largely to a reduction of weight and friction. Medina says a pinion through-shaft design optimizes power flow in the axle for better efficiency, a design that Kenworth Chief Engineer Kevin Baney says will christen the new axle "the most efficient out there."
Laser welding of internal components helps reduce weight, as does a lower oil volume requirement. Those add up to around 150 pounds of weight savings.
Axle ratios of the line haul optimized axle range from 2.47 to 3.70, with engine torque compatibility of up to 1,650 lb.-ft. and a multi-torque rating of up to 1,750 lb.-ft.
Recently, I tested the new 40K rear axle in both a Peterbilt 579 EPIQ and a Kenworth T680. It's not easy to evaluate an axle. The aim of the Paccar axle is to boost efficiency of MX-equipped trucks, so any benefit will show up on your fuel reports and back office spreadsheets.
Paccar's 2017 MX engine, however, is much more reviewer friendly on two 100 mile treks around Kirkland, Wash. and Denton, Texas, respectively.
For the coming model year, Paccar will offer two different turbos on its engines – one each for horsepower ratings above and below 485.
The MX-11, which was spec'd in a Kenworth T680 Advantage day cab, featured an extra 100 lb.-ft. of torque and was rated at 430 hp with 1,650 lb.-ft. torque. The 11 liter powerplant was able to nimbly climb several steep and long grades around Kirkland, Wash.
The MX-13 gets an extra 10 horsepower for 2017 – up to 510 hp. My Peterbilt EPIQ featured 455 hp, which Anthony Gansle, Peterbilt on-highway marketing manager, says is the company's most common line haul fuel efficiency spec.
Central Texas doesn't offer much by way of hill country, but the 13 liter MX powered the more than 70,000 pound gross weight like a champ through gusty winds and often dense highway traffic.
Paccar engines for 2017 will also feature a single-cylinder air compressor. Additionally, injectors and pistons have been tuned and refined, and both oil and coolant pumps will now be variable speed.
Also new for the 2017 model year is a single-canister aftertreatment system that trims about 100 pounds off the truck while improving serviceability thanks to the integration of the DPF, SCR and DEF pipe all into one location.
Uptime aside, efficiency is the name of the game and Paccar casting its chips on weight-savings and a march toward an integrated Paccar powertrain makes a lot of sense.