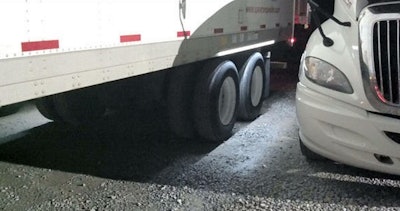 New trailer orders for September fell 16 percent month-over-month and 66 percent year-over-year.
The 11,800 units posted last month include a 43 percent month-over-month drop in dry van orders, which are down 80 percent year-over-year.
"The lower order rate in September is consistent with a cooling market in 2017," says Don Ake, FTR vice president of commercial vehicles. "Fleets are uncertain and nervous about freight demand and declining profits."
Despite falling trailer orders, build rates for September jumped 10 percent per day over August. The lower than expected orders and stronger build rates resulted in the backlog dipping below 100,000 trailers for the first time since January 2014.
Trailer orders have now totaled 226,000 units for the past 12 months.
"[Fleets] are not going to place huge orders covering demand for the next 12 months, as they have the last two years," Ake adds. "Lead times are much more reasonable, so fleets will evaluate their needs on a month-to-month basis for a while. This means order rates should come in line with production fairly soon."
September production was surprisingly strong after two noticeable weaker months in July and August, with some OEMs boosting production after the vacation breaks. Additionally, Ake says there were more pup trailers built for package carriers in anticipation of the holiday shipping season.
"Factory shipments were way up, cutting into bloated inventories," he says. "This is a positive sign for trucking in Q4."
Editor's note: This article originally appeared in HWT's sister publication, ccjdigital.com.