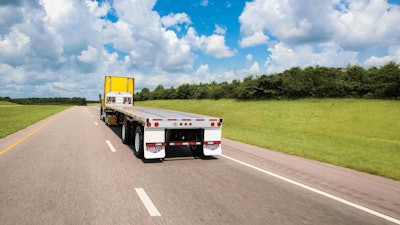 Utility Trailer Manufacturing Company is introducing a new flatbed trailer built on an updated 4000A platform.
Larry Roland, director of marketing for Utility Trailer Manufacturing Co., says the 4000AE flatbed replaces steel crossmembers with a new patent-pending design that uses 3 and 4 inch aluminum crossmembers – contributing to an overall 536 lb. weight reduction compared to the 4000A base model while also adding a 47,000 lb. coil haul package. The 4000AE is 627 lbs. lighter than the 4000A flatbed fitted with an optional coil haul package.
Each crossmember sits in a patent-pending saddle that does not use mechanical fasteners to connect the crossmember to the steel main beams. For added stability, three tube-shaped outriggers are located on each side of the 4000AE and are connected to the aluminum crossmembers, which aids in even load distribution to the steel main beams.
"The 4000AE approaches the weight of an all-aluminum trailer yet is available at a combo trailer price," he adds.