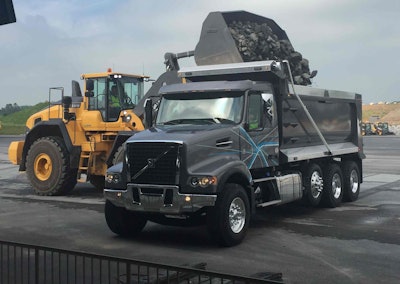 Volvo Trucks North America has placed all its chips on the future of automated manual transmissions (AMT).
The company has already made its I-Shift AMT standard on the company's trucks, and market penetration of Volvo's flagship gearbox hit 88.8 percent as of May.
Magnus Koeck, Volvo Trucks' vice president, marketing and brand management, says now that 94.5 percent of Volvo trucks are spec'd with Volvo engines, even bigger things lie ahead for I-Shift and AMTs in general.
"I bet in five years you won't see a manual [transmission] anymore," he says.
The company believes so heavily in the future of shiftless driving that it is targeting growth opportunity in heavy haul and vocational segments by including optional crawler gears in 13 and 14 speed I-Shifts.
"We just weren't able to go slow enough (before)," Wade Long, Volvo Trucks' director of product marketing, says of unlocking concrete and paving operation customers, for example.
I was able to take a 14 speed I-Shift with crawler gears for a spin around Volvo Construction Equipment headquarters in Shippensburg, Pa., this week.
Many of the familiar comforts you'd expect from previous generations of I-Shift remain but they have been refined to new heights to compliment Volvo's soon-to-be-released lineup of 2017 engines.
Crawler gears up can accommodate a GCVW of up to 220,000 lbs. and allow for speeds as slow as 0.6 miles per hour with a 3.58 rear axle ratio.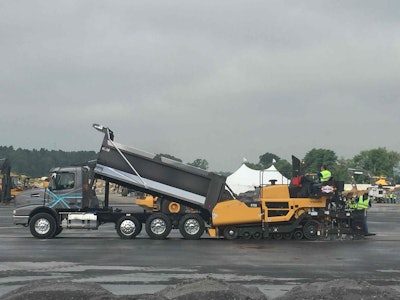 The VHD I was driving took it a step further with a 3.07 rear axle ratio.
The crawler gear is basically a large gear located in an extended housing in the transmission. The bigger the gear, the slower it turns and the faster the axle ratio.
Stronger drive lines have been added to accommodate faster axle ratios.
The transmission can operate in one of two modes: efficiency or performance. Efficiency mode is ideal for highway speeds while performance mode is designed to handle moving massive loads across an over bruising terrain. You can choose the mode by clicking a button on the back of the shifter. In either mode, shifting is both timely and smooth.
"You can operate this transmission efficiently with performance at these (low) speeds, and then take it out on the highway," Long adds. "This is the first time we've been able to talk efficiency in vocational trucks."
Switching to manual mode, which I did to navigate up a 21 percent grade while loaded with 80,000 pounds of aggregate, gives the driver the flexibility to call their own shots when the need arises but it's not a necessity in most cases. Gears can be selected up and down easily enough with two buttons located on the side of the center-mounted shifter.
Coming down that same grade proved even easier than climbing it thanks to an intuitive engine brake that feels like an old friend who's got your back. I rolled the truck down the grade into a hard left turn and barely touched the service brake.
The faster gearing in the axle provided better throttle response and increased engine efficiency of the 500 horsepower D13 enhanced the truck's overall drivability.
Koeck says demand for vocational trucks is now growing relative to longhaul tractors thanks to a rebounding construction segment and the slowing long haul segment.
Volvo sets new AMT penetration benchmarks seemingly every month, and that's sure to only increase with the additional flexibility the crawler gear and power plant updates bring for next year's models.
The VHD is a comfortable truck to drive, and with a new flexibility to feed a curb-cutter or to lay asphalt at a walking pace, the limits rounding the corner in to 2017 are limitless.