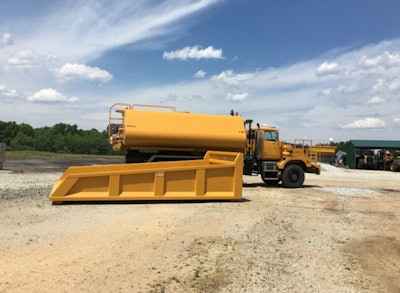 Western Star announced at Michelin's Laurens (S.C.) Proving Grounds Thursday the launch of its new Extreme Duty (XD) Off-road package.
Engineered for rugged environments, the Western Star XD Off-road package is available on both the 4900 and 6900 models but the company says it plans to make it available on other models in the future.
Between the two models, XD40 will be flagship spec with heavy duty components designed for multiple applications. John Tomlinson, XD and vocational sales manager for Western Star, says the XD40 was developed to be a consistent and repeatable chassis spec which allows for easy parts availability and quick maintenance.
The all-wheel-drive or standard drive XD40 package gets a Detroit Series 60 Tier 3 engine or 2016 Detroit DD16, an Allison 4700/4800 Off-Road Series (ORS) transmission, 110,000 pound planetary rear axle, 28,000 pound planetary front axle and front engine skid pan.
Fittingly, the company that built the most recent iteration of Optimus Prime also Thursday rolled out a transformer for its heavy-haul customers.
The 6900XD Multi-Body Transformer (MBT)-40 – dubbed transformer for its ability to quickly change from one fully functional in cab controlled body application to another – is the first XD off-road series offering from Western Star and a new concept for off-road equipment markets.
"What we've done is taken a demountable and turned it into a transformer," Tomlinson says. "Off-road chassis equipment can be expensive to buy and maintain and new emissions levels are making the investment even more costly."
Demountable bodies generally are simply uninstalled and replaced for various applications. What makes the MBT-40 different, Tomlinson says, is that bodies mounted to the MBT-40 utilize truck's electrical and hydraulic system, meaning additional savings and functionality since those systems are equipped on the truck rather than the body.
Using a PALFINGER G68 hooklift, with a lifting capacity of 34 tons, Tomlinson says the MBT-40 is designed to replace the need for multiple pieces of dedicated off-road equipment on a job site that sit for long periods of time when they are not needed.
"I can water in the afternoon and dump all morning," he says. "And it's quicker to change over than it is to fuel the truck."
During a demonstration Thursday, a two-man crew dropped a water tank and added a dump bed in less than 5 minutes.
The unit is equipped with a generic in-cab control system and a self-adapting hydraulic system that also allows the operators to quickly and easily swap the controls of multiple body applications.
"All of the switches turn into the switches for the new body," Tomlinson says. "All of the hydraulics adapt to the new body."
The MBT-40 features multiple hydraulic air and electrical connections that allow it to connect and power a variety of bodies from flow-controlled hydraulic motors and pumps to heavy high-flow tip cylinders.
"By maximizing the operation time, customers can have the equipment they need always for when it is required," says Tomlinson. "Mining, quarry and off-road construction industries are looking for better solutions right now and we have the answers for them with this new product."
Tomlinson adds he is still woking with truck body builders to expand the range of bodies the truck can accept, but that possibilities are only limited by the willingness of body builders to design options and the capacity of the hooklift.
"If it weighs under 34 tons, just let your imagination run wild," he says.
The 6900XD is available in both 6×4 and 6×6 configurations.
4900 and 6900 get optional Allison off road transmission
Also Thursday, Western Star announced the Allison Transmission Off Road Series (ORS) fully automatic transmission will be available on 4900 and 6900.
The 4700 ORS transmission – available for the 4900 and 6900 – and the 4800 ORS – available only on the 6900 – are engineered for use in articulated dump trucks and other rough terrain heavy haulers. With the widest gear ratios and maximum gross vehicle weights of up to 211,644 pounds, the 4700 and 4800 ORS allow for larger payloads.
Ann Demitruk, Western Star's vice president of marketing, says the new transmission options gives the truck models greater capabilities.
6900XD gets 28K slippered springs
The 6900XD will also be available with a 28,000 pound rated flat leaf front suspension with 62.5 inch slippered spring length in combination with a 28,000 pound front drive axle. The slippered spring option will both reduce wear and tear and contribute to a smoother ride as it absorbs shocks bumpy roads and uneven surfaces.
Steer axle springs are double slipper mounted with the chassis resting on the springs with hard plastic pads and no shackle brackets. The axle is held in place with a torque rod system that provides maximum payload capacity with a smooth ride empty or loaded over rough terrain.
Peter Schimunek, vocational marketing manager, Western Star, says the slippered spring improves durability and driver comfort.
The 6900XD can haul loads of over 500,000 pounds as a tractor and move 80,000 pounds at a time as a dump.
HWT note: This article first appeared in Hard Working Truck's sister publication, ccjdigital.com.