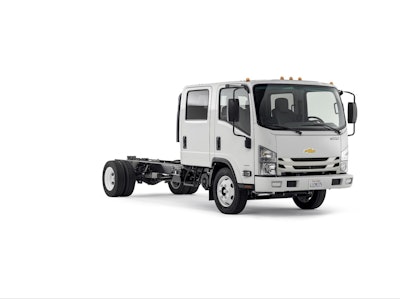 Chevrolet announced Friday sticker prices for its resurgent commercial cabover trucks set to debut next model year.
Pricing for the trucks with a 6 liter V-8 gas engine will start at $40,900. Trucks equipped with diesel engines start at $48,375. Each will include a $1,125 destination charge but exclude tax, title, license and dealer fees.
The new trucks, based on Isuzu's N-Series, are offered in regular-cab and crew-cab body styles, with either the 6 liter gas engine, a 3 liter turbo-diesel engine or a 5.2 liter turbo-diesel engine, all with six-speed automatic transmissions.
"We know how important the total vehicle cost of ownership is to fleet customers to be successful in their work, and we believe these prices reflect some of the most competitive in the market when it comes to medium-duty trucks," says Ed Peper, U.S. vice president, General Motors Fleet.
The seven new models – Chevrolet 3500, 3500HD, 4500, 4500HD, 4500XD, 5500HD and 5500XD – will be distributed through select Chevrolet dealers focused on the commercial business. Depending on the model, wheelbases ranging from 109 to 212 inches will be available with GVWRs ranging from 12,000 lbs. to 19,500 lbs. GM expects compatibility for a variety of body types, including dry freight or refrigerated boxes, stake/flat beds and service bodies.