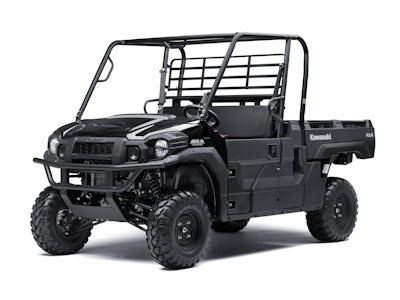 For the 2016 model year, Kawasaki's MULE PRO-FXT will be available as a single-row seating variant.
The new single-row PRO-FX gains a larger steel cargo bed, giving it the largest in its class and 20 percent bigger than any previous MULE.
Developed alongside the PRO-FXT, the new MULE PRO-FX shares the same engine and chassis platform, meaning it is still the fastest and most powerful MULE ever built, with independent suspension, powerful disc brakes, effective engine braking and optional speed-sensitive power steering.
The cargo bed has a 1000 lb carrying capacity and is able to accommodate a full-size wooden palletwith the tailgate closed.
The PRO-FX is also able to tow up to 2000 lb when the optional hitch is fitted.
ENGINE & TRANSMISSION
The MULE PRO-FX features 48 lb-ft of torque from its 812cc, three-cylinder engine with Digital Fuel Injection (DFI). Thanks to a high-output alternator, which delivers 60.8 amps at 2,000rpm (with the headlights on), occupants can power accessories thanks to a pair of built-in 12-volt outlets.
There are two outlets to power everything from phones and tablets to GPS devices and other technology.
Transferring the engine's performance to the ground is a specially tuned CVT transmission that was designed for the 48 lb-ft of torque. The CVT also provides natural engine braking to help when descending slopes, with consistent engine hold-back to increase driver confidence, especially when the vehicle is loaded.
The CVT is combined with an electrically selectable 2WD/4WD system that has a dual-mode rear differential. Convenient dash-mounted switches allow the driver to instantly engage the systems, giving full control over the 4WD and locking rear differential.
The dual mode on the differential allows it to be fully locked for maximum traction, but it can minimize the vehicle's impact on the terrain when unlocked.
HIGH CAPACITY HAULING & TOWING
The MULE PRO-FX boasts the largest cargo bed in its class. Measuring 54.1×53.3×11" it will easily accommodate a full-size wooden pallet (48×40").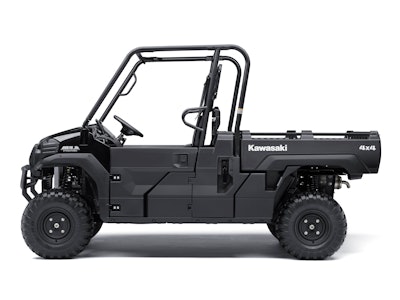 PRO-FX has a high-tensile, diamond-plate steel cargo floorwith a maximum cargo capacity of up to 1000 lb (600 lb max in CA). The cargo bed has a gas-assisted tilt feature that makes it easier to raise the empty bed to allow easy access to the engine compartment.
The cargo bed also has integrated steel cargo rails and internal ridges, allowing loads to be firmly secured. The tailgate is secured by two sturdy levers, which make it easy to open and close. The tailgate design also incorporates built-in cupholders.
DASHBOARD
The interior features multi-function LCD instrumentation. It provides a large, intuitive, easy-to-read display that includes an array of information such as digital speedometer, odometer and hour meter, fuel gauge, dual trip meters, water temp, 2WD/4WD operation, clock and parking brake indicator to keep the driver fully informed at a glance. There is a lights on the diff lock switch to indicate when it is selected. There are also two DC power outlets provided for convenient access to charge accessories and gadgets.
POWERFUL LIGHTING
The same high-power alternator responsible for charging smartphones and devices will also provide excellent visibility after dark and in poor weather conditions by powering the 55/60 watt Hi/Low halogen headlights that come as standard equipment on all models.
Additionally, the LE and CAMO models in the MULE PRO-FX range get high-intensity, auxiliary LED headlights with Hi/Low settings for even greater illumination (available as accessories on other models).
LED lights are specified on most high-end machinery for their extremely bright output, although Kawasaki's engineers were also interested in the extended durability and low current draw that LEDs offer.