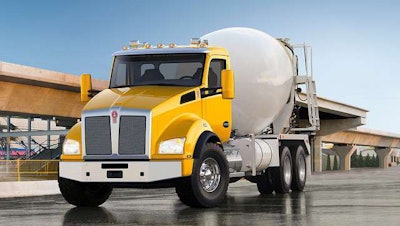 For ready-mix haulers, spec'ing a mixer truck starts with the body. The drum's payload capacity, discharge opening, chutes, hydraulic systems, load-distributing tag axles, and other features largely determine the vehicle's allowable payload and how productive a truck can be on any given workday.
For productivity over the life of the truck, however, you should broaden your view to include the powertrain, cab, and chassis specs.
"The truck OEM provides the combination of power, durability, maneuverability, and low tare weight you need regardless of the body you choose," said Kurt Swihart, Kenworth marketing director. He offers five tips ready-mix haulers should follow when they spec their next truck:
Buy a Better Cab
"A comfortable operator is a more productive operator," Swihart said. A larger interior, a more logical dash and switch layout, better visibility, and information centers with instant feedback are features that can improve the driver's experience both on the road and at the job site.
Kenworth's T880 vocational truck cab, introduced in 2013, is a prime example.
At 2.1 meters (82.7 inches), the T880 cab is 10 inches wider than its predecessor and has 23 inches of room between the seats. Kenworth added 4 inches of space behind the seats to allow for more seat travel and provide room on the back wall for hooks to hang coats and hard hats.
The windshield is 50 percent larger to give operators a better view of the terrain, obstacles, and workers around them. In the footwell, the T880 uses firewall-mounted hanging pedals instead of floor-mounted pedals, and an air-assisted hydraulic clutch requires only half the pressure of a traditional clutch so engages easily, without a lot of leg movement.
"Mixer cabs traditionally are tight on space," Swihart said. "It doesn't have to be that way. Operators come in lot of different sizes and they all have personal gear like boots and hard hats. The cab should adjust to the operator, not the other way around."
Maximize the Horsepower-to-Weight Ratio
"An 11-liter engine, with the proper power band, can rival a 12- or 13-liter engine in terms of performance yet provide the low weight and optimal fuel consumption you expect from a smaller engine," said Swihart.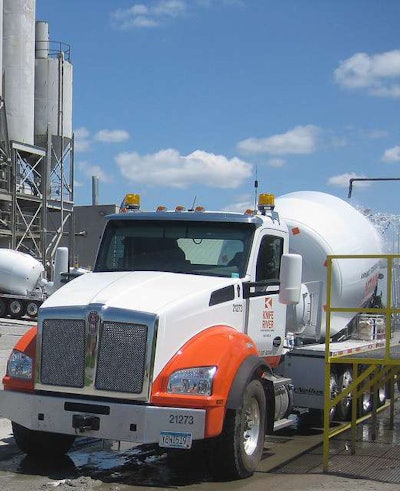 The new, 10.8-liter Paccar MX-11 engine – available in 2016 – strikes that balance. It will be available in horsepower ratings from 355 to 430 hp and 1,250 to 1,550 lb-ft of torque and weighs up to 400 pounds less than larger displacement engines. The PACCAR MX-11 engine is designed to achieve a B10 life of 1 million miles while meeting the demands of heavy-duty truck applications.
The engine allows a range of popular transmission choices, including Eaton's 9ALL manual, which has a 35.71 to 1 overall ratio coverage for crawling while pouring curbs or other continuous pours; Eaton's UltraShift PLUS automated manual transmissions; and Allison 3000 series and 4000 series automatics (including the 4700 RDS).
Spec for Low Weight But Not Less Durability
You can reduce weight by spec'ing components such as wheel, hubs, air tanks, and clutch housings in aluminum rather than steel. "Use the smallest fuel tank you can," Swihart said. "Ready-mix trucks burn 4 to 4-1/2 gallons per hour so a 56- to 75-gallon tank is usually plenty for one shift."
Disc brakes on the steer and drive axles can save up to 150 pounds compared to drum brakes as well as dramatically reduce stopping distances and annual maintenance costs.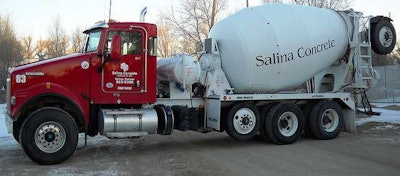 Using an in-cab battery box and deleting the passenger seat can eliminate between 90 and 150 pounds depending on whether you use two or three batteries.
You can save valuable pounds in your suspension selection. "The difference can be as high as 400 pounds," Swihart said of the different suspension options. "You can leave shock absorbers off the rear because the weight of the mixer means you will never be running light."
In some cases, spec'ing lightweight components can result in tradeoffs in cost, durability or performance.
For example, an Allison 3000 series automatic will save an additional 250 pounds over the Allison 4000 series transmission. But, limitations of the 3000 series are reduced payload capacity of up to 62,000 pounds GVW in a mixer application, and availability up to only 1,250 lb-ft of engine torque.
Using wide-base "super single" tires instead of duals on the rear can save hundreds of pounds in wheel and tire weight. The trade-off is that you get a narrower track if you stick with standard track axles. You can go with a wider track axle, but then you may not have the option to go back to duals later because the dual configuration will now be over-width. An intermediate track sometimes is the best compromise here.
"Your truck dealer can help you thoroughly understand how lighter components would affect your productivity," Swihart said.
Focus on the Frame
The frame rail specs are impacted by the type of mixer barrel used. "If the barrel has a subframe welded to the chassis rails that is approved by the OEM, a single 11-5/8-inch frame is fine," said Swihart. "You'll want a transition plate bolted to the frame at the back of the cab which goes as far forward as possible. This helps ease stresses on the rails.
"But if the mixer pedestals are mounted directly to the frame rails, you'll need an inserted frame of at least 10-3/4 inches," he said. "Remember, it's not just strength you're looking for, but stiffness, too. And, if you have more than one pusher axle, an inserted rail is recommended to help withstand the higher side loads."
Some of Kenworth's mixer-specific options from the factory are fully huck-bolted frames, factory installation of up to three pushers, and pre-punched holes in the frame rails to help body builders with installation, among other options.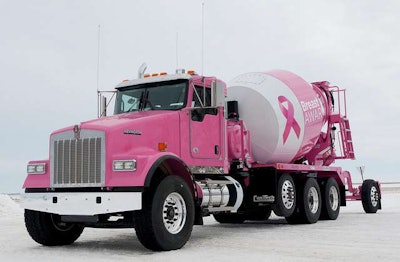 Another thing to remember about the frame: mixer body manufacturers often request crossmembers in specific locations. Check with them before the truck is built. Kenworth offers a custom frame layout option that keeps specific areas of the back of cab clear for customer-installed options. It is also standard for Kenworth to leave approximately 44 inches clear inside the frame rails back-of-cab to provide room for the pump installation. This is standard with the REPTO option.
Do the Truck OE and Body Supplier Talk?
When you look at truck and body suppliers, ask how the two communicate to make sure the chassis and body come together as expected.
"A generation ago this process involved drawings and body-builder manuals being sent across the country, with fingers crossed that there were no mistakes or missed connections to delay the process," Swihart explained. "Today, we're sharing 3D CAD models that show crossmember locations, PTO locations and clearances, special frame drilling patterns, and other air, electrical, and emissions equipment on the frame."
If you want to see what your chassis would look like with a horizontal crossover DPF with a ground-dump tailpipe and compare it to a DPF under the right-hand side of the cab with dual tailpipes, it can be done on the screen. As a customer, you can visualize what your truck is going to look like right down to a fine level of detail before anyone drills the first hole.
This only happens when the truck OEM and body supplier have a solid working relationship.
"You may begin the process with the mixer body manufacturer," Swihart said, "but don't overlook the knowledge and resources the truck dealer has to help you spec a vehicle that's productive not only from load to load, but also over its entire lifecycle."