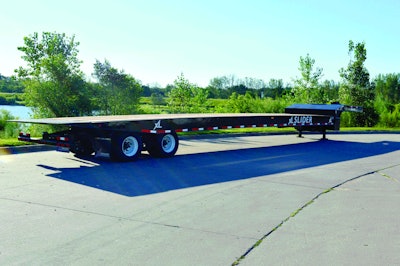 XL Specialized Trailers has introduced its new slide axle trailer, XL 80 Slider. The two-axle trailer is rated at 80,000 pounds overall and 50,000 pounds in 10-feet concentrated.
The Slider is named for its sliding axle assembly, which allows the unit to tilt for the loading and unloading of heavy and inoperable equipment. New GAR-MAX filament wound composite rollers slide smoothly without the need for grease. With optimal standard features and an array of options, the XL Slider is customizable for specific hauling needs.
"The XL 80 Slider will be a great trailer for the towing and rental markets with its customized solutions," says Rodney Crim, Vice President of Sales at XL Specialized Trailers. "Machines like paving equipment can be a headache to load, but the sliding and tilt mechanisms will really simplify loading for the operator and make it a much quicker operation."
Paving equipment creates unique challenges with its large rollers and heavy weight that requires a full width ramp and low angle for loading. The XL Slide Axles are ideal for this equipment with an extremely low load angle of 6.5 degrees that assists with loading such equipment. The XL Slider is set-up for hauling inoperable equipment, which requires winches and rollers for loading. It also offers a heavy-duty 20,000-pound hydraulic winch with manual kick out and 100 feet of 9/16-inch cable. A two-function wireless remote accompanies the winch for ease of use and a recessed roller at the top of the gooseneck rolls in conjunction with the winch to pull the cable. While the trailer is great for paving equipment, close cross member spacing enables drivers to also transport forklifts.
The new XL 80 Slider is a four-beam trailer comprised of 4-inch junior I-beams and 3-inch I-beams on 8-inch centers for durability. The trailer includes many standard features for easier operation. Chain drops down the center deck and the side beams provide extra tie-down areas. The energy chain protects air and electrical lines from damage, while two toolboxes in the upper deck provide storage space. The Slider comes with mid-turn lights, clearance lights and two taillights; all rubber mounted with "plug-and-play" capability for easy changing out.
Additional options provide customization. Dock levelers, a 28HP Honda self-contained power unit, hydraulic park stands, a wired remote for backup or an upgraded six, seven or ten-function wireless remote and aluminum wheels can all be added to any XL Slide Axle. Operators choose from a 48-foot long trailer with a 17-degree dump angle, a 51-foot long trailer with a 16-degree dump angle or a 53-foot long version with a 15-degree dump angle. The XL Slider offers two axle spacing options: 50 inches and 60 inches.