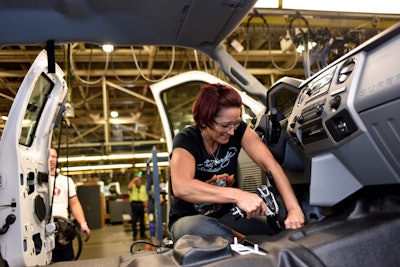 Ford's 2016 F-650/F-750 are being billed as "all new," and included in that all-encompassing moniker is where the trucks are made.
The first refreshed medium-duty trucks for next model year rolled off the line in Ohio Wednesday after the company shifted production of the trucks to its Ohio Assembly Plant from Mexico. Mexican assembly was part of Ford's joint venture with Navistar, which has since dissolved as Ford shifted attention to fully integrated powertrains.
The move secures more than 1,000 hourly UAW jobs and a $168 million plant investment in the U.S.
"Our investment in Ohio Assembly Plant reinforces our commitment to building vehicles in America and to delivering best-in-class commercial trucks," says Joe Hinrichs, Ford president, The Americas. "Working with our partners in the UAW, we found a way to make the costs competitive enough to bring production of a whole new generation of work trucks to Ohio."
The Ohio plant was once known as the birthplace of Ford's E-Series van but work is well underway to phase that model out in favor of Ford's Transit commercial van, which are assembled in Kansas City.
Ford announced in 2014 a $168 million investment to shift production of F-650 and F-750 from Mexico to Ohio Assembly Plant, in addition to adding new body shop equipment and other tooling needed to produce the medium-duty vehicles.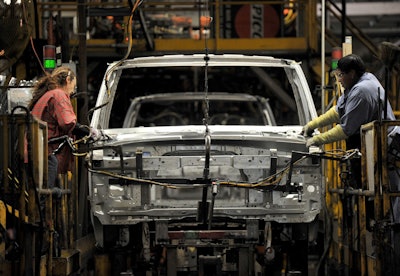 Ford's F-650/F-750 anchor the company's commercial vehicle lineup – America's best-selling commercial trucks for 30 straight years. Offered in Regular Cab, SuperCab and Crew Cab body styles and in straight-frame, dock-height and an all-new dedicated tractor model for heavy towing applications, the 2016 F-650/F-750 line features a bold new look inside and out.
Along with its 6.7-liter Power Stroke V8 diesel engine option, Ford remains the only automaker to offer a gasoline-powered engine in the medium-duty truck segment. The 6.8-liter V10 with 320 horsepower and 460 lb.-ft. of torque now will be available for both F-650 and F-750 models with the heavy-duty TorqShift six-speed automatic transmission. The 6.8-liter can be factory-prepped for converting to compressed natural gas or liquid propane gas as cost-effective alternatives to gasoline.