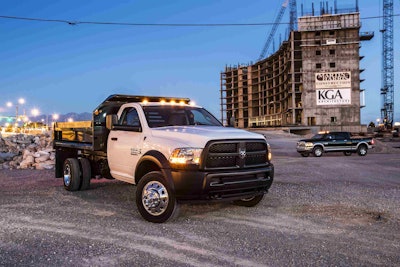 Ram Trucks: Setting the bar on towing, fuel efficiency, power and payload in new models
Since its launch as a stand-alone division in 2009, the Ram Truck brand has steadily emerged as an industry leader with one goal: to build the best pickup trucks and commercial vehicles in the industry.
The brand continues to invest substantially in its hard-working products, infusing them with great looks, refined interiors, durable engines and class-exclusive features that further enhance their capabilities.
Chief among those investments for 2016 is a substantial increase in the Ram's already chart-topping power and towing.
"Ram is committed to engineering and innovation leadership, which includes a four-pillar list of best-in-class titles: fuel economy at 29 mpg; torque which we increased to 900 lb.-ft.; payload at 7,390 pounds and towing, for which we've set a new high point of 31,210 pounds," said Bob Hegbloom, President and CEO — Ram Truck Brand, FCA North America.
"Ram has loaded its trucks with dozens of features that set them ahead of the competition," states Hegbloom, "including cargo-view cameras, air bag suspension options and, of course, a wide range of powerful, fuel-efficient powertrains."
Ram Truck Brand shows those innovations and features in each of the market segments with this 2016 model-year overview:
Want details on the Ram 1500 lineup? Click here.
Looking for 2016 Ram 2500/3500 Heavy Duty? Click here.
Plenty of detail on Ram's 2016 3500/4500/5500 Chassis Cab is available by clicking here.
Details on Ram ProMaster & ProMaster City are right here.