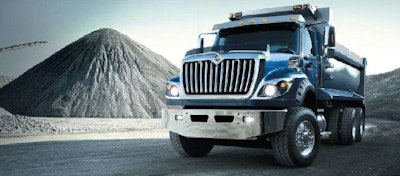 International announced Tuesday the availability of its WorkStar vocational truck powered by the Cummins ISB6.7 engine.
"Adding the market-accepted Cummins ISB6.7 to our vocational line-up is a key part of our strategy to offer our customers the most comprehensive options of proven components in the industry," says Bill Kozek, Navistar president, Truck and Parts. "The addition of the Cummins ISB6.7 to our WorkStar model provides customers with a winning combination of uptime, performance, productivity and durability."
The WorkStar is the second International truck model to feature the ISB6.7 as an engine option, following the International DuraStar which has been in market with Cummins ISB6.7 since December 2013.
The addition of the Cummins ISB 6.7-liter engine now expands the WorkStar model's powertrain options, which include Navistar's proprietary 9.3-liter and 13-liter offerings. WorkStar is also available with a suite of traditional manual and automated-manual transmission offerings from Eaton and fully-automatic offerings from Allison. The ISB, which is rated up to 325 horsepower and 750 lb.-ft. of torque, with higher ratings available for fire and emergency applications, features flexible horsepower and torque ratings for medium-duty applications.
The WorkStar with Cummins ISB6.7 is available for order today and will be in production this spring.