[youtube NGD1VC7b2I8 nolink]
World-premiere: 2015 Alfa Romeo 4C Spider delivers race-inspired performance, advanced technologies, seductive Italian style
Want to impress the best this summer when you hit the road for a weekend away from the business? Fly low with the top down behind the wheel of the 2015 Alfa Romeo 4C Spider.
Thanks to its mid-engine layout, advanced technology and compact size, the all-new 2015 Alfa Romeo 4C Spider demonstrates its precision, agility and performance credentials with a top speed of 160mph and 0-to-60 mph acceleration blasts in an estimated 4.1-seconds. Not bad for a 1.7L turbo-'d four-cylinder.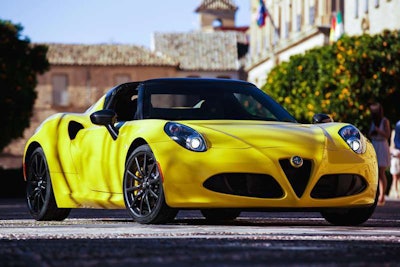 Production versions of the all-new 2015 Spider, which was revealed at the 2015 North American International Auto Show, will arrive at dealerships this summer.
Here's the short-take:
Unique carbon fiber windshield frame and available carbon fiber "halo" highlight 4C Spider's ultralight carbon fiber monocoque and aluminum chassis structures, which enable an incredible power-to-weight ratio and supercar-level performance
Innovative and unique technological solutions: all-aluminum 1750 cc direct-injection, dual intercooled, advanced turbocharged engine with dual variable-valve timing paired to the blistering fast Alfa TCT (twin-clutch transmission) and Alfa DNA selector with four adjustable drive modes
All-new available Akrapovic dual-mode exhaust system features dual, center-mounted tips with carbon fiber surround and signature Alfa resonant sound (late availability)
Handcrafted in Modena, Italy, Alfa Romeo 4C Spider combines two excellences – the performance engineering of Alfa Romeo and the craftsmanship of Maserati manufacturing
For driving convenience in Dynamic, Natural or All-weather modes, the Alfa Romeo TCT gearbox can utilize an "auto" mode.
Instantaneously optimizing the Alfa Romeo 4C Spider's level of performance is the brand's innovative Alfa DNA selector.
With four modes, including "Race" mode, the Alfa DNA selector can optimize the engine, transmission, Alfa Electronic Q2 differential and electronic stability control (ESC) calibrations to the levels needed by the driver.
With a touch of the Alfa DNA selector, the driving dynamics of the Alfa Romeo 4C Spider can be changed to (in order of increasing capability):
All-weather

– designed to ensure maximum control in adverse weather conditions and enables gentler accelerator input and special engine and brake control logic to match road speed and prevent skidding

Natural

– enables grand touring comfort and smooth drivability for the Alfa TCT gearbox

Dynamic

– enables improved driving performance via a more aggressive powertrain calibration and less intrusive ESC setting

Race

– Available while in Dynamic mode, Race mode is the most extreme performance mode, putting the driver in total control of the car under race conditions. ESC and anti-slip regulation (ASR) are deactivated to allow the driver to control traction through the accelerator pedal. The Alfa Electronic Q2 differential control system remains active for fast exits out of corners or bends