Smittybilt E.P.S generator keeps small jobsites charged up
Smittybilt's new 2,600-watt Electrical Power Supply (E.P.S) inverter and generator keeps all of your electrical devices fully charged and running, regardless of where you work.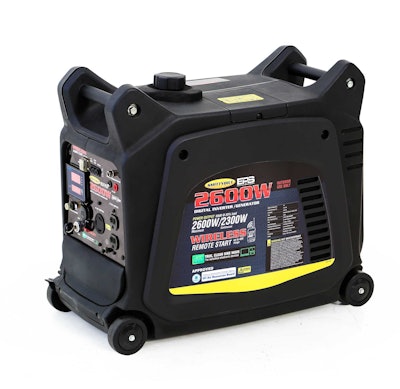 This compact unit uses a "Smart Throttle" that automatically varies the engine speed for maximum fuel efficiency, something that conventional generators do not offer.
It's powered by a quiet, fuel-efficient four stroke with a 1.5 gallon fuel tank and is fully CARB compliant for use in California. The E.P.S Generator has a wireless remote to either start up or shut down, for added convenience.
The inverter on the EPS Generator has two 120 VAC outlets and a single 12 VDC outlet to charge all of your electronics, from smart phones and laptops to AC units and coffee pots.
The inverter utilizes a three phase inversion process and has an integrated overload protection produce a clean sine wave output your sensitive electronics.
CONTACT: Smittybilt; 888.717.5797