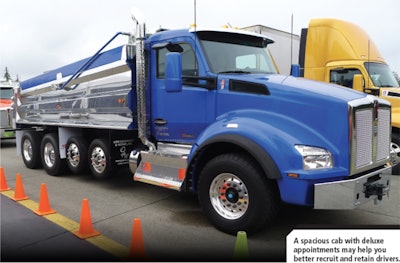 Kenworth recently debuted its new flagship T880 vocational truck. The new truck, which replaces the venerable T800, went into production late last year. It is the result of a four year, $400-million effort by Kenworth.
The company recently invited us out to the Seattle area to take a ride in the new units. I came away from that visit with one distinct impression: If you're trying to recruit and retain drivers (arguably the number-one problem in the trucking industry), the T880 is the way you do it.
Let's start with the cab. The all-new, stamped aluminum cab is wider, 2.1 meters across, about 83 inches. (The T800 was 1.9 meters – about 75 inches.) In terms of tactile feel, the Diamond VIT cab appointments are more like what you would see in a luxury automobile or deluxe pickup truck. Sound levels inside the cab, even when climbing through the gears, were low enough to hold a conversation in a normal volume. The air ride seat could teach the airlines a thing or two. And the company's "SmartWheel" steering wheel design puts the most frequently used audio controls right under the driver's fingers, rather than the dash.
When it comes to visibility, a shorter hood with an aggressive slope delivers good sightlines to the front. Low-cut side windows and lowered mirrors improve your ability to see all those little things like Smart Cars and motorcycles that somehow manage to camp out in your blind spot. Kenworth's angled steering gear on the T880 buys you nine degrees of additional wheel cut and an improved turning radius. The automatic transmissions, an Eaton Ultrashift Plus (in T880 heavy haul) and an Allison 4500 RDS (in the T880 dump), shifted efficiently and smoothly, although we did not get a chance to drive these trucks under load.
As for the additional specs: a Paccar in-line, six cylinder MX-13 engine comes standard. I drove the 500 horsepower version but this engine is offered with nine ratings from 380 horsepower/1,450 foot pounds of torque at 1,000 rpm up to 500 horsepower/1,850 foot pounds of torque at 1,100 foot pounds of torque.
At the press ride and drive, Kenworth announced the Cummins ISX12G engine is now available for the T880. The natural gas engine is spark ignited so you don't need aftertreatment systems (no urea or diesel particulate filters).
Recruiting and retaining drivers is the top issue for truck and fleet owners today, and serviceability is certainly an issue for drivers and the shop. Kenworth addressed that need in several ways.
The five-piece hood and fender assemblies are made from a type of durable plastic called Metton. The fenders are bolt on and replacing one after it gets damaged can be done in less than two hours. You don't have to choose between time-consuming bodywork and keeping the truck looking sharp.
Push-to-connect electrical connectors eliminate more tedious methods of booting up components. The electrical and air lines are centralized on the driver's side under the hood, which makes them easy for a mechanic to access and a driver to check. A centralized pass-through on the firewall puts them all in one place.
Finally the T880 is offered in 122.5-inch and 116.5-inch bumper-to-back cab (BBC) configurations. A sleeper option is also available.