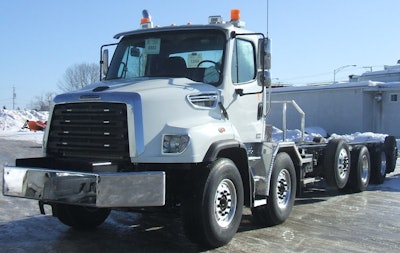 Fontaine Modification Vocational Services says it has partnered with Canadian-based Simard Suspensions to install and distribute Simard's patented AMS twin-steer front suspension products in the United States and Mexico.
Fontaine is the first post-production installer to complete a long-term working relationship with Simard, offering their tandem steering suspensions that can significantly increase a vehicle's load capacity without impacting its maneuverability.
"Simard has developed innovative suspensions for more than 75 years, and we are excited to bring their proven products into new markets," says Steve Boyer, president of Fontaine Modification Vocational Services. "The AMS twin-steer suspension can add payload to nearly any vehicle, including concrete mixer, crane, front loader and dump trucks. It is designed for heavy-duty on- or off-road use and has proven itself in Canada, the United States, Australia and Latin America."
Fontaine will offer the full range of Simard AMS tandem suspensions, which includes air and spring designs with up to 46,000 lbs. of capacity.
The additional steering axle provided by a Simard AMS tandem suspension helps drivers navigate comfortably in severe terrain on construction and drilling sites, or city streets. The Simard twin steer offers optimal load distribution while working within the original OEM wheel cut and turning radius. AMS suspensions are designed to be lightweight to reduce wear-and-tear on the vehicle, and serviceable parts are positioned in accessible areas for easy maintenance.
Fontaine Modification Vocational Services will make Simard Suspension installations available at four of its modification centers across the U.S. The suspensions can be configured to fit nearly any truck, regardless of manufacturer.
"Fontaine is going to make it much easier for truck users in the U.S. and Mexico to get the most out of their vehicles," says David Tremblay, president and CEO of Simard. "With a tandem front suspension, customers will safely increase their payload, thus optimizing the return on their capital investment. This saves money and helps optimize resources."