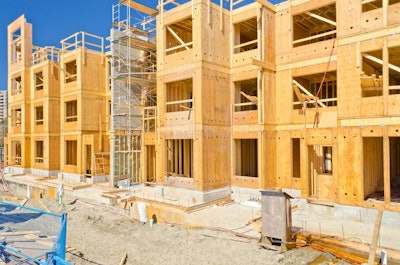 Despite sharp declines in housing starts in August, homebuilder confidence in September has risen to the highest level since before the Great Recession, according to a pair of recent industry reports.
Led by a steep 31.7 percent decline in multifamily production, nationwide housing starts fell 14.4 percent to a seasonally adjusted annual rate of 956,000 units in August, according to newly released figures from the U.S. Department of Housing and Urban Development and the U.S. Census Bureau.
Single-family housing starts dropped 2.4 percent to a seasonally adjusted annual rate of 643,000 units.
"The August drop in multifamily starts is not too surprising, given how volatile the numbers have been the last 18 months," said David Crowe, chief economist of the National Association of Home Builders. "And while single-family starts registered a slight decline, low mortgage rates, affordable home prices and pent-up demand will keep single-family production moving forward in 2014."
Combined housing starts fell in all regions of the country. The Northeast, Midwest, South and West posted respective drops of 12.9 percent, 10.3 percent, 10.9 percent and 24.7 percent.
The market, however, should still be in good shape going into the fall.
"Our members are telling us that traffic to new model home sites and sales expectations are on the rise," said NAHB Chairman Kevin Kelly, a home builder and developer from Wilmington, Del. "Despite the monthly blip, single-family starts are still 8 percent above last year's level."
However, issuance of building permits registered a 5.6 percent loss to a seasonally adjusted annual rate of 998,000 units in August. Multifamily permits fell 12.7 percent to 372,000 units while single-family permits decreased 0.8 percent to 626,000 units.
Regionally, the Northeast, Midwest, South and West registered overall permit losses of 11.6 percent, 12.4 percent, 0.6 percent and 8.3 percent, respectively.
Nonetheless, builder confidence in the market for newly built, single-family homes rose for a fourth consecutive month in September to a level of 59 on the NAHB/Wells Fargo Housing Market Index.
This latest four-point gain brings the index to its highest reading since November of 2005.
"While a firming job market is helping to unleash pent-up demand for new homes and contributing to a gradual, upward trend in builder confidence, we are still not seeing much activity from first-time home buyers," said NAHB's Crowe. "Other factors impeding the pace of the housing recovery include persistently tight credit conditions for consumers and rising costs for materials, lots and labor."
Derived from a monthly survey that NAHB has been conducting for 30 years, the NAHB/Wells Fargo Housing Market Index gauges builder perceptions of current single-family home sales and sales expectations for the next six months. Any number over 50 indicates that more builders view conditions as good than poor.
All three HMI components posted gains in September. The indices gauging current sales conditions and traffic of prospective buyers each rose five points to 63 and 47, respectively. The index gauging expectations for future sales increased two points to 67.
Builder confidence also rose across every region of the country in September. Looking at the three-month moving average for each region, the Midwest registered a five-point gain to 59, the South posted a four-point increase to 56, the Northeast recorded a three-point gain to 41 and the West posted a two-point increase to 58.