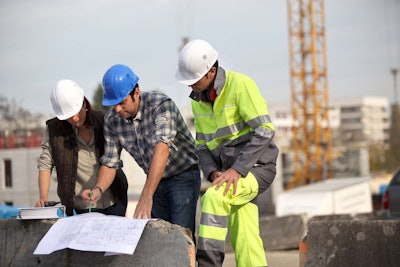 A bad month for housing starts in the South pushed the national production number down in June but overall construction was up for the month, led by nonresidential projects.
Nationwide housing production fell 9.3 percent to a seasonally adjusted annual rate of 893,000 units in June, according to figures from the U.S. Department of Housing and Urban Development and the U.S. Census Bureau. The drop was due primarily to a nearly 30 percent decline in the South. All other regions posted monthly gains.
Single-family housing starts were down 9 percent to a seasonally adjusted annual rate of 575,000 units in June, while multifamily production fell 9.9 percent to 318,000 units.
Regionally in June, combined single- and multifamily housing production rose in the Northeast, the Midwest and the West, with respective gains of 14.1 percent, 28.1 percent and 2.6 percent. Total production fell by 29.6 percent in the South, the nation's largest region.
"Take away the South and nationwide housing starts would have been in positive territory this month," says National Association of Home Builders Chief Economist David Crowe. "This sharp regional decline could be due in part to lots and labor shortages, which are particularly acute in that part of the country. However, the general direction of housing production is trending upward, and we expect 2014 to be a positive year."
Issuance of building permits registered a 4.2 percent decline to a seasonally adjusted annual rate of 963,000 units in June.
Still, builder confidence in the market for newly-built single-family homes reached an important milestone in July, rising four points to a reading of 53 on the NAHB/Wells Fargo Housing Market Index. Any reading over 50 indicates that more builders view sales conditions as good than poor.
"This is the first time that builder confidence has been above 50 since January and an important sign that it is strengthening as pent-up demand brings more buyers into the marketplace," says NAHB Chairman Kevin Kelly, a home builder and developer from Wilmington, Del.
All three HMI components posted gains in July. The index gauging current sales conditions increased four points to 57, while the index measuring expectations for future sales rose six points to 64 and the index gauging traffic of prospective buyers increased three points to 39.
Overall, new construction starts in June advanced 6 percent to a seasonally adjusted annual rate of $549.7 billion, the highest level so far in 2014, according to McGraw Hill Construction, a division of McGraw Hill Financial.
Nonresidential building strengthened after pulling back in May, with the lift coming from the start of several large manufacturing plant projects.
During the first six months of 2014, total construction starts on an unadjusted basis were $254.1 billion, up 1 percent from the same period a year ago.
June's data raised the Dodge Index to 116 (2000=100), up from 109 in May.
"The first half of 2014 revealed a mixed performance by project type," says Robert A. Murray, chief economist for McGraw Hill Construction. "Single family housing stands out as the biggest surprise on the negative side, as its upward trend present for much of 2012 and 2013 has stalled for now. Public works and electric utilities are seeing generally decreased activity, as expected. On the positive side, multifamily housing is still proceeding at a healthy clip, and commercial building continues to move hesitantly upward, with office construction this year providing most of the support."