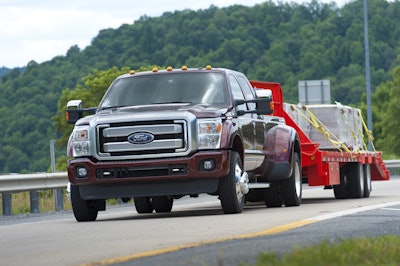 Ford Steps Up The 2015 Pickup Towing War With More Muscle Than Ram Or GM Heavy Duties
Rolling hard into the throttle driving 2015 Ford F-350, Ram 3500, and Chevy 3500HD Silverado duallies towing 33-foot 5th wheel travel trailers tells a lot about a diesel pickup's power, ride and handling.
Put those same trucks/trailers on an interstate where nearly seven miles is greater than 4-percent grade, with about half that in one brake-smoking 7-percent section, and you quickly learn each manufacturer's ability to control 22,000 pounds in the most demanding of towing conditions.
Earlier this week Ford rolled out their 2015 Super Duties to let journalists do just that driving up and down the infamous Beckley Grade on I-64 as it runs through West Virginia.
The power and towing war has really heated up this year. Ram had laid claim earlier on to the having the most power, torque, towing and payload numbers. That's changed.
Ford posted their figures for the second generation 6.7L found in the refreshed Super Duties: The 2015 6.7-liter Power Stroke V8 turbo diesel now boasts 440 horsepower, up from 400 horsepower, and 860 lb.-ft. of torque, up from 800 lb.-ft., across all Super Duty models from F-250 to F-450.
Along with the bushel of extra ponies comes the need for having a CDL if you plan on towing at max capacity with the F-450.
It tops the F-Series Super Duty pickup truck lineup with maximum fifth-wheel/gooseneck towing capacity increasing to a class-leading 31,200 pounds, a gain of 6,500 pounds.
The truck's gross combined weight rating (GCWR) increases to a class-leading 40,000 pounds, a gain of 7,000 pounds.
Ford's stoutest F-350 is a special high-capacity option called the 2015 Tow Boss edition. It's actually a rebadged 2014 F-450.
The wide-track Tow Boss has a maximum fifth-wheel/gooseneck towing capacity of 26,700 pounds, from 23,200 pounds, and a GCWR that's bumped up 4,500 pounds, to 35,000 pounds.
2nd Generation 6.7L Power Stroke
The 2015 Super Duty achieves best-in-class towing performance with a second-generation 6.7-liter Power Stroke V8 turbo diesel engine that has been further developed to provide more power, torque and efficiency.
"The 6.7-liter Power Stroke V8 turbo diesel was already a stout engine," said Robert Fascetti, Ford vice president, Powertrain Engineering. "The improvements we've made essentially give Super Duty customers an engine that is also designed for our larger F-650 and F-750 medium-duty trucks. They may not realize how tough this engine really is."
I was pleasantly surprised when I laid into the throttle the first time, all the while towing a 33-foot 5th wheel travel trailer. The torque delivery is impressive, as is the power band once the engine rolls above 1,800rpm.
Key innovations on the 6.7-liter Power Stroke are its compacted graphite iron engine block and reverse-flow layout.
This segment-exclusive design places the exhaust inside the engine's V-shape with the air intake positioned on the outside, resulting in a variety of advancements:
Shorter airflow from the exhaust system to the new, larger turbocharger sitting between the engine's cylinder banks improves turbo responsiveness – key to providing torque quickly to truck customers when they need it most
Positioning the turbo inside the engine's valley helps isolate the engine's hottest temperatures, improving performance and efficiency while also reducing noise, vibration and harshness to enhance driver comfort
Other upgrades include a larger turbocharger for increased airflow, resulting in more power.
"The designers of the original 6.7-liter Power Stroke V8 turbo diesel predicted it would eventually need to be upgraded for higher output," said David Ives, Ford Power Stroke technical specialist.
"They made it easier to add a larger turbocharger, increasing airflow and creating more power for dramatically improved performance, and yet we haven't lost any efficiency."
MORE: WATCH DAVID IVES' INTERVIEW VIDEO
A further benefit of the larger turbo is improved engine braking, manually controlled by a push-button switch on the dashboard.
Extra braking power helps reduce wear and tear on wheel brakes and requires less manual brake application from the driver, especially on downhill grades.
Towing the 12,000-pound-plus 5th wheel travel trailers down the steep descent of the Beckley Grade put the new system to the test. I only had to tap the brakes twice during the three-mile-long section that's a 7-percent grade to maintain 65mph.
2015 Super Duty Chassis Improvements

I found the standard F-350 Super Duty suspension to be a little more jittery than either of it's competitors over expansion joints, and the interior quietness almost on par with the Silverado HD.
The F-350 Super Duty is available with a high-capacity towing package (Tow Boss) that includes new front springs and a wide track axle, increasing the gross combined weight rating with the 6.7-liter Power Stroke engine from 31,900 pounds to 35,000 pounds.
Improvements to F-450 that allow it to handle the increased tow rating include commercial- grade 19.5-inch wheels and tires, upgraded rear U-joints and suspension components with new leaf springs, front and rear stabilizer bars and shocks.
The steering system has stronger gears and linkages and the fifth-wheel/gooseneck has increased towing capacity.
The brakes, shared with Super Duty chassis cab models, are larger and feature new antilock calibration for enhanced performance.
Overall the ride, handling and comfort levels of both the 2015 Super Duties show a nice improvement over the 2014s. The mechanical upgrades, and the addition of the Platinum trim package, place Ford's Super Duties on par with the best GM and Ram Truck have to offer.
From a pure towing power perspective, however, Ford's competitors will need to ramp it up another notch if they want to contend for those bragging rights.