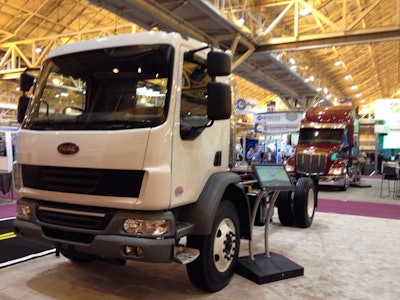 The first new Peterbilt medium-duty cabover Model 220 – featuring numerous enhancements to performance, durability and the operating environment – rolled off the assembly line at the company's COE manufacturing facility in Mexicali, Mexico this week.
The Class 6 and 7 truck, which was introduced earlier this year during the Mid-America Trucking Show, is now in full production.
RELATED: Pete cabovers; is the third time the charm?
"The new Model 220 brings customers greater levels of productivity. Drivers will enjoy enhanced maneuverability that shortens the curb-to-curb turning radius by 30 percent and the new, standard electronic braking system (EBS) for improved braking performance," says Robert Woodall, Peterbilt director of sales and marketing. "These characteristics combine with an efficient bumper-to-bumper length of 35 feet for added agility while still delivering an extra 45 in. of payload area and a frame rail system that can be upfitted with bodies ranging from 16 to 28 ft.
"It is extremely versatile and will exceed expectations in every application, from urban pick-up-and delivery to refuse, and from landscaping to street sweeping and striping."
Interior Features
The cab features a completely redesigned interior that was engineered to give operators unparalleled levels of safety, productivity and comfort, Peterbilt says.
"Maximizing visibility was a key consideration in designing the Model 220," says Landon Sproull, Peterbilt chief engineer. "Our 2,500-sq. in. windshield, large side windows and multiple-mirror array provides operators with a panoramic view, helping them navigate the confined and congested areas that these vehicles often operate in."
The new curved dashboard features easy-to-read instrumentation and an interactive, 5-in. color display module that provides information on vehicle and driver performance, the company says.
Ergonomics also was a primary focus in designing the interior, resulting in easier-to-read instrumentation and grouping all switches by function. Sproull says storage is abundant in the new cab with compartments in the door panels, along the back wall, in the header and on the dash, conveniently located near the driver for paperwork or other items.
Peterbilt says the Model 220 will remain standard with numerous driver-pleasing features, including: power windows and mirrors; air-ride driver's seat; and air conditioning. It is also available with a passenger-side air-ride seat or fixed two-man bench to accommodate three people in the cab.
Exterior Features
The new cabs are designed for durability to withstand harsh, urban operating environments, the company says. For instance, the new bumper is manufactured from galvanized steel, there's a new radiator protection plate and the headlamps are protected by a tough Lexan covering.
For improved visibility during adverse conditions, Pete says fog lamps have been integrated into the bumper.
"Productivity and safety are two major areas of improvement. We've facilitated ease of entry and egress with doors that open a full 90 degrees and there's ample courtesy lighting," says Sproull. "Additionally, Model 220s are now standard with electronic braking systems for improved braking performance and faster response from the pedal to the brakes."
The Model 220 is equipped with the Paccar PX-7 engine with up to 260 horsepower and 520 lb.-ft. of torque. The standard automatic Allison transmission also has a push-button shifter for easy engagement, the company says.