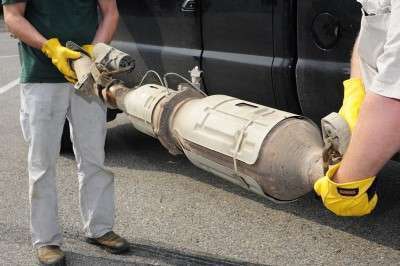 DPF CLEANING: The Green Solution
The time has come for many of the higher-mileage pickup diesels equipped with diesel particulate filters (DPF) where a costly decision has to be made: replace, remove or refurbish the clogged DPF.
Yes, even though today's heavy-duty pickups have DPF filter regeneration, they still need either: 1) to be replaced at some point in time; or 2) professionally cleaned/refurbished to regain the exhaust flow needed for the engine to perform like it should.
(Deleting the DPF from the exhaust system is a federal offense.)
Replacement DPFs cost upwards of $3,000 (or more) depending on the make/model pickup. Professional cleaning , on the other hand, costs a fraction of that price.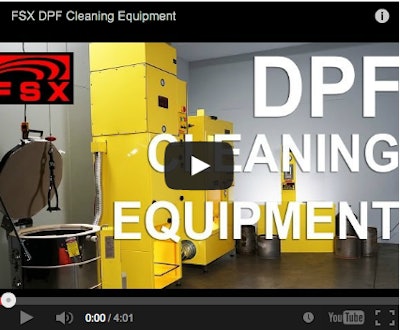 Unlike big rigs and medium-duty trucks that make it relatively easy to clean DPFs, pickup systems are built like a muffler or catalytic converter.
To R&R a pickup DPF requires removing it from the exhaust system, cutting off the end flanges and/or opening up one side to get at the actual filter, then putting it through a special cleaning chamber or chambers.
"Refurbishing light-duty pickup DPFs is more time consuming than cleaning a big-rigs'," says Daniel Minchey at Clean DPF Exhaust in Mandeville, LA, a company that's cleaned thousands.
"We charge light-duty truck customers $500 to do the cleaning and welding the DPF back together so it's like new. That price includes shipping charges if the customer is more than 150 miles away from our offices."
One company that manufacturers DPF cleaning equipment is FSX Equipment (fsxinc.com; 360.691.2999). Their machines are used by companies around the world that offer DPF cleaning services similar to those of Clean DPF Exhaust.
FSX's Drew Taylor says they instruct their equipment users to follow a basic refurbishing process for all DPFs:
Use highly compressed air to blow through the filter in an FSX specially designed machine. Then flow-test the filter to ensure it meets FSX's stringent guidelines for meeting original OEM specs. This is typically all that's needed to clean medium- and heavy-duty DPFs
If the filter does not pass, which is the case with most pickup diesels' DPFs, it's on to stage two: thermal cleaning. The DPF is placed in a special oven, baked, then subjected to the blow-out process followed by another flow-test.
Taylor says all pickup DPFs have to be cut open to access the actual filter for cleaning, which can add a couple hundred to the refurbishing cost over the price of the bigger trucks.
There are other manufacturers, such as Donaldson and OTC, that also offer DPF cleaning equipment to a multitude of companies that provide DPF cleaning services.
A little web research and a phone call to DPF cleaning service providers will save you a lot of money when that "replace DPF" warning shows up.