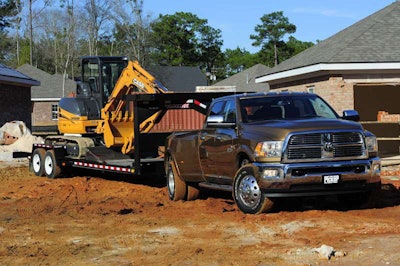 Sales of newly built, single-family homes rose 18.6 percent to a seasonally adjusted annual rate of 504,000 units in May, according to data released Monday by the U.S. Department of Housing and Urban Development and the U.S. Census Bureau. This is the highest rate since May 2008.
Regionally, new-home sales were up across the board. Sales rose 54.5 percent in the Northeast, 34 percent in the West, 14.2 percent in the South and 1.4 percent in the Midwest.
"This increase is a welcome sign after a slow start to 2014," said NAHB Chief Economist David Crowe. "As job creation continues, we can expect further release of pent-up demand and continued gradual growth in the housing recovery."
Indeed, other recent reports haven't been so positive.
Declines in both single- and multifamily starts pushed nationwide housing production down 6.5 percent in May to a seasonally adjusted annual rate of just over 1 million units, according to government. However, single-family permits, which can be an indicator of future building activity, rose 3.7 percent.
"The dip in single-family production shows builders continue to move carefully in adding inventory," says Kevin Kelly, NAHB chairman and a home builder and developer from Wilmington, Del. "They are also facing supply chain issues, such as access to lots and labor."
Single-family housing starts were down 5.9 percent to a seasonally adjusted annual rate of 625,000 units in May. Meanwhile, multifamily production fell 7.6 percent to a seasonally adjusted annual rate of 376,000 units.
Regionally in May, combined single- and multifamily housing production fell in the Northeast, the Midwest and the West, with respective losses of 25.2 percent, 16.5 percent and 16.3 percent. Meanwhile, the South posted a 7.3 percent gain.
Issuance of building permits registered a 6.4 percent decline to a seasonally adjusted annual rate of 991,000 units in May. This was due entirely to a decrease in the multifamily sector, where permits registered a 19.5 percent loss to 372,000 units. Single-family permits increased to 619,000 units.
Still, builder confidence in the market for newly built, single-family homes rose four points in to reach a level of 49 on the latest NAHB/Wells Fargo Housing Market Index (HMI). It remains one point shy of the threshold for what is considered good building conditions.
"Consumers are still hesitant, and are waiting for clear signals of full-fledged economic recovery before making a home purchase," adds Crowe. "Builders are reacting accordingly, and are moving cautiously in adding inventory."
Looking at the three-month moving averages for regional HMI scores, the South and Northeast each edged up one point to 49 and 34, respectively, while the West held steady at 47. The Midwest fell a single point to 46.