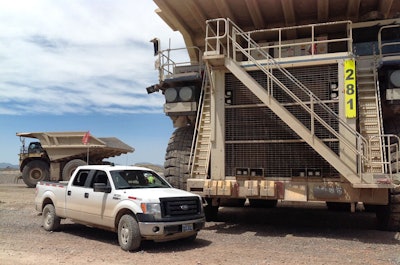 Ford F-150 SuperCrew 4×4 vs. Liebherr T282B: By The Numbers
How does the world's best-selling work truck compare against one of the world's largest work trucks? The numbers tell all.
At the Barrick Gold Cortez mine in north-central Nevada the work of moving millions of tons of gold-bearing earth for processing is a 24/7, 365-day a year job.
Men and machines work regardless of the weather conditions sweeping over the sprawling open-pit mine complex, one of seven mining operations Barrick has in the US, six of which are in Nevada.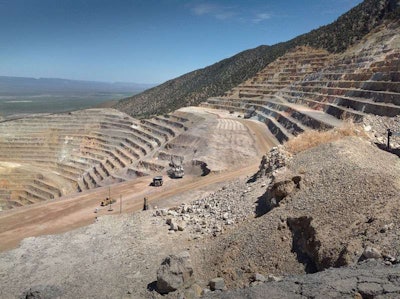 The Cortez site is one of the largest gold producers in the world, relinquishing more than five–million troy ounces of gold in the last three years alone.
To achieve those numbers, millions of tons of rock and material have to be blasted from the side of the mountain and moved to the processing locations on the site.
But that kind of production would not be possible if it weren't for the work trucks that haul the gold-bearing material – and more than 220 Ford F-Series pickups and E-Series vans in the Cortez fleet that transport men and their equipment to the work areas.
Two of the work trucks Cortez rely heavily upon are F-150s and Leibherr T282-B haul trucks: The former to haul workers and their tools around the sprawling complex, and the latter to move rock and earth blasted from the side of the mountain to be processed.
Both are key work trucks for the mine site's smooth-running operation.
So how do these two trucks compare? You be the judge.
Here're the basic specifications of each vehicle representative of what is being used at the Barrick Cortez mining operation:
2014 Ford Make 2014 Liebherr

F-150 XLT Super Crew 4×4 Model T282-B Haul Truck
Kansas City, MO Assembly On site
$30,335 Base Price $4,000,000
6 Max Seating 1
5.0L (302cid) Triton V8 Engine 90L (5492cid) Detroit Diesel 20V4000
360 @ 5,500rpm Horsepower 3,654 @1800rpm
6 qts. Engine Oil Capacity 103 gals.
16 qts Cooling System Capacity 202.2 gals.
Four-wheel-drive Drive Type Rear/Twin Electric AC motors
3.55:1 Axle Ratio 43.7:1
6-speed Automatic Transmission Direct-electric drive
100 mph Top Speed 34 mph
26 gals. Fuel Capacity 1,414 gals
14 mpg City (jobsite) MPG 4 gpm
$90 Cost To Fill-Up $5,400
364 miles Driving Range 353 miles
5,716 lbs. Curb Weight 555,564 lbs. (97 F-150s)
1,700 lbs. Max Payload 800,278 lbs (140 F-150s)
7,350 lbs. GVWR 1,437,414 lbs. (195 F-150s)
12 ft. Wheelbase 21.5 ft.
19.3 ft. Overall Length 47.6 ft.
6.4 ft. Overall Height 25.7 ft.
8.1 ft. Overall Width 29.5 ft.
.75 ft. Ground Clearance 4.6 ft.
41.7 ft. Turning Radius 56.5 ft.
Goodyear 265/70R17 Tires Bridgestone VRPS E-4 59/80R63
31.7" Tire Height 158.1"
50 lbs. Tire Weight 11,500 lbs. (2 F-150s)
$800 Tire Cost/Set $300,000 (10 F-150s)
Note: Specifications can vary depending on customer needs and how they spec out the trucks