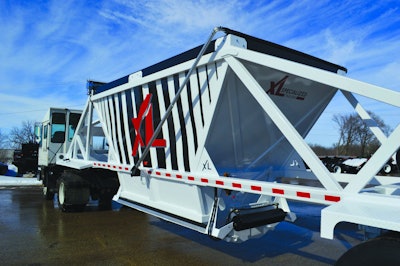 XL Specialized Trailers will release its XL Bottom Dump trailer later this year in an effort to capture more of the construction market which has begun to rebound.
The XL Bottom Dump trailer was displayed at the Mid-America Trucking Show this week at the Kentucky Exposition Center in Louisville, Ky.
Ideal for the aggregates industry to haul and dump gravel and other materials, the XL Bottom Dump features a customized extra large upper hopper opening of 96 inches by 193 inches, the largest in it's industry.
At 53 inches high, the upper hopper is made out of 10-gauge steel and uses a flip and go tarp system. The lower hopper is 59 inches by 118 inches and equipped with ASTM A-572 10-gauge plate. Both the upper and lower hoppers are fitted with reinforced side walls for added strength and stability.
XL engineers says the company was able to build a larger hooper while maintaining a weight comparable to its peers by rethinking the framing structure.
"With the launch of the XL Bottom Dump trailer, it expands our market reach into the aggregates industry and it definitely fits the needs and wants of our customer base," says Rodney Crim, Director of Sales at XL Specialized Trailers.
With a length of 40 feet, the trailer features a side height of 9 feet, 2 inches plus 10-inch boards and weighs 12,750 pounds that includes a tarp and push-block, the bottom dump trailer offers a 25-cubic yard capacity with 10-inch bang boards.
The gates, like the lower hopper, are made of ASTM A-572 steel and feature adjustable side locks.
To maneuver over large piles, an oscillating fifth wheel pivots as needed with an 18-inch kingpin setting. Featuring two 25,000-pound, 5-inch tubular axles, the trailer has cut and chip resistant tires for on and off road use and 16.5-inch by 7-inch brakes.
The air-operated gate system is equipped with two 8-inch cylinders, in-line filter and lubricator, 60-gallon air reservoir and quick exhaust valves. Prepped for electronic cab control, operators can open and shut gates from the cab or from the ground using manual override. A heavy-duty push-block is 44 inches wide and 10 inches tall for off-road jobs in tough traction conditions.