Ford's 2016 Medium-Duty Raises Productivity With innovative Design
Ford debuted its new 2016 F-650/F-750 at the Work Truck Show in Indianapolis, Ind. Tuesday evening.
"Every day, we're thinking of new ways to better serve our hard-working customers," says John Ruppert, general manager, Ford Commercial Vehicle Sales & Marketing.
"The same Ford engineers who developed the best-selling F-Series have designed this all-new medium-duty lineup that can meet the demands of our toughest customers with trucks that are cost-effective, ready for work, and, most importantly, can help keep them going on the job," says Ruppert.
The Ford F-650/F-750 is the latest Ford Commercial Truck to be revamped. The company says its entire commercial lineup will be all-new or significantly refreshed in the next 18 months.
RELATED: EXCLUSIVE INTERVIEW WITH FORD'S CHIEF ENGINEER
Offered in three cab styles – Regular Cab, SuperCab and Crew Cab – and three models – straight frame, dock height and an all-new dedicated tractor model for heavy towing – the new F-650/F-750 features a second-generation 6.7-liter Power Stroke V8 diesel that has more power and better fuel economy than the current turbo diesel.
It's available in three power levels up to 330 horsepower/725 lb.-ft. torque and carries a five-year/250,000 mile limited warranty.
Along with the addition of the diesel the new trucks get a new six-speed TorqShift automatic transmission, developed and tested for medium-duty applications.
The all-new mesh grille framed by hallmark Ford nostrils Ford says helps improve airflow for optimal cooling performance.
Also new are sharp fenders, aerodynamic headlamps and F-650/F-750 badges embossed in "Bold Leadership" font.
Available PowerScope trailer tow mirrors feature large standard and spotter mirrors and segment-exclusive power telescoping and folding design.
Ford says the area behind the cab was redesigned to more easily accommodate custom work bodies, such as tow truck, dump truck and ambulance bodies.
Newly available for F-650/F-750 is the Ford-built and proven 6.7-liter Power Stroke V8 diesel paired with a commercial-grade six-speed 6R140 automatic transmission with available power takeoff provision to run accessories in the field, a dump body, crane or other vocational equipment.
Ford says key innovations on the 6.7-liter Power Stroke V8 turbo diesel are its compacted graphite iron engine block and so-called reverse-flow layout. The advanced design places the exhaust inside the engine's V-shape while the air intake is positioned on the outside of the V.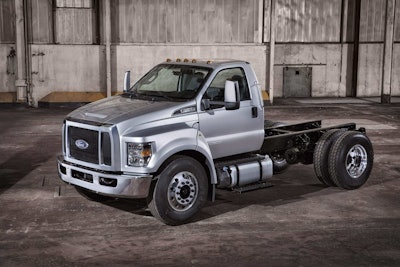 This segment-exclusive design naturally improves a variety of attributes:
• Shorter airflow from the exhaust system to the turbocharger sitting between the engine's cylinder banks improves turbo responsiveness – key to providing torque quickly to truck customers when they need it most
• Positioning the turbo inside the engine's valley helps isolate the engine's hottest temperatures, helping improve performance and efficiency, while also reducing noise, vibration and harshness to improve driver comfort
Ford says Power Stroke drivability is enhanced with tow/haul mode that includes a switchable integrated engine brake.
The driver can regenerate the diesel particulate filter on-demand to clear out trapped soot from the exhaust system to help maximize performance. Intelligent Oil Change Monitoring is standard so oil changes are based on driving patterns and load demands instead of fixed distance intervals.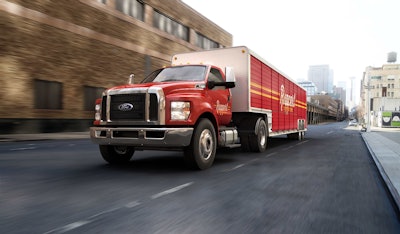 Auxiliary components such as the diesel exhaust fluid tank and standard fuel tank are now located under the cab instead of behind it on the frame.
This clean cab-to-axle design satisfies more truck body applications and makes customizing easier, which helps reduce the customer's final costs and time to delivery.
Aluminum fuel tanks replace steel and are lighter to help efficiency. The electrical system is more robust than the outgoing model to handle larger component loads, according to Ford.
A fuel-efficient transmission features a low first gear ratio for optimized takeoffs under load and optimized gear ratio span across all gears for optimized fuel economy. It's also strengthened with new materials and extra pinion gears for medium-duty service, Ford says.