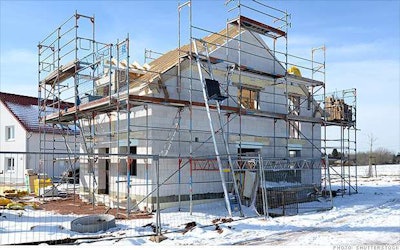 Bad weather has hampered home construction activity in much the nation so far this year, and it's also put a damper on the builder's expectations, according a government data and a recent survey.
Due largely to unusually severe weather across much of the nation, housing starts fell 16 percent to a seasonally adjusted annual rate of 880,000 units in January, according to newly released figures from the U.S. Department of Housing and Urban Development and the U.S. Census Bureau.
Meanwhile, single-family permits, which are often a harbinger of future building ativity, posted a modest 1.3 percent decline to a seasonally adjusted annual pace of 602,000 units.
"Cold weather clearly put a chill on new home construction last month and this is also reflected in our latest builder confidence survey," says Kevin Kelly, chairman of the National Association of Home Builders and a home builder and developer from Wilmington, Del. "Further, builders continue to face other obstacles, including rising materials prices and a lack of buildable lots and labor."
In January, single-family housing starts posted a 15.9 percent decline to 573,000 units while multifamily production fell 16.3 percent to 307,000 units.
Regionally, single-family starts activity rose 10.7 percent in the West and 2 percent in the Northeast and fell 13.8 percent in the South and 60.3 percent in the Midwest.
"Though the decline in starts is largely weather related, it is worth noting that on the upside housing production for the fourth quarter was above 1 million for the first time since 2008 while single-family permits held relatively steady," says NAHB Chief Economist David Crowe. "The less weather sensitive permits data suggests that our forecast for solid growth in single-family housing production in 2014 remains on track, as pent-up housing demand is unleashed."
Overall permit activity fell 5.4 percent to 937,000 units in January. The decline was due primarily to a pullback in buildings with five units or more, where permits fell 13 percent to 309,000 units.
Regionally, overall permit issuance was down 10.3 percent in the Northeast and 26 percent in the West, but rose 8.6 percent in the Midwest and 3.4 percent in the South.
Still, those weather conditions, along with continued concerns over the cost and availability of labor and lots, caused builder confidence in the market to fall.
The NAHB/Wells Fargo Housing Market Index (HMI) posted a 10-point drop, slipping to 46, according to the February report.
"Clearly, constraints on the supply chain for building materials, developed lots and skilled workers are making builders worry," says Crowe, the NAHB economist. "The weather also hurt retail and auto sales, and this had a contributing effect on demand for new homes."
Derived from a monthly survey that NAHB has been conducting for 25 years, the NAHB/Wells Fargo Housing Market Index gauges builder perceptions of current single-family home sales and sales expectations for the next six months.
Scores for each component are then used to calculate a seasonally adjusted index where any number over 50 indicates that more builders view conditions as good than poor.
All three of the major HMI components declined in February. The component gauging current sales conditions fell 11 points to 51, the component gauging sales expectations in the next six months declined six points to 54 and the component measuring buyer traffic dropped nine points to 31.
Looking at three-month moving averages for regional HMI scores, the West was unchanged at 63 in February while the Midwest registered a one-point decline to 57, the South registered a three-point decline to 53 and the Northeast posted a four-point decline to 38.
On a more positive note, FMI's first quarter Nonresidential Construction Index came in at 64.9 points, showing a 7.5 point increase from the fourth quarter 2013 index, as well as a 6.8 point increase from the first quarter of last year. It's also the highest NRCI score to date.
Industry consultant FMI says nearly half of panelists in the index survey expect construction to grow up to 5 percent this year.
Challenges remain, however, the report notes. Panelists cited several particular concerns this year: hiring talented people, finding profitable work and uncertainty about government decisions over the economy.
Highlights of the index, compared with the fourth quarter 2013 index:
Overall economy: The number of panelists saying the overall economy is improving jumped 19.1 points to 79.8 points.
Local markets improve, a gain of 15.4 points to 77.0 points.
Those saying their backlog has improved now stand at 65.7 points. While an improvement over the last quarter, this is still lower than a year ago. The median backlog for panelists remains at nine months.