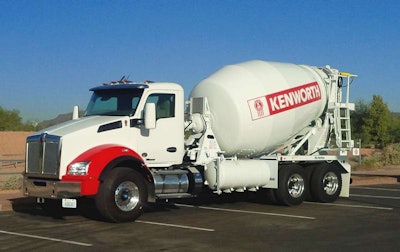 Kenworth says it will feature the T880 with the Paccar MX-13 engine and a mixer body in its booth (C6203) during the World of Concrete Show later this month.
The new Kenworth T880 recently entered into full production, and the T880 mixer on display will include a PACCAR MX-13 engine rated at 405 hp and 1,450 lb-ft of torque, Eaton UltraShift Plus VMS transmission, McNeilus standard mixer body, and a 116.5-inch BBC hood optimized for the PACCAR MX-13.
The T880 has a 5-piece Metton hood, air-assisted hydraulic clutch, panoramic windshield, complex reflector headlamps, excellent maneuverability and new lightweight, factory-installed lift axles.
The T880 utilizes a 2.1-meter wide, stamped aluminum cab which is robotically assembled. The quiet cab has triple-sealed and robust doors and provides a comfortable 23 inches of room between the seats. The T880 offers the premium Diamond VIT and Vantage trim levels and two interior color options of Sandstone Tan and Slate Gray.
"Kenworth is excited to show the T880 at the World of Concrete for the first time. The all-new T880 is the flagship of Kenworth's outstanding vocational truck offering and is already attracting extensive interest from vocational operators who want a quality and durable truck with low operating cost in applications such as mixer, dump and bulk haul," says Alan Fennimore, Kenworth vocational marketing manager. "The T880 is anticipated to draw even greater attention as the construction business is expected to improve in 2014."
Peterbilt Motors Company will feature its new all-purpose vocational Model 567 and several other vehicles at the show. The Model 567 is standard with the PACCAR MX-13 Engine with up to 500 horsepower and 1,850 lb-ft of torque and can be ordered as a day cab or with Peterbilt's complete line-up of detachable sleepers. Also on display will be Peterbilt's low-cab forward Model 320 equipped with a concrete pumper and a Model 357 with a mixer body and a PACCAR PX-9 Engine.
World of Concrete is open Tuesday through Thursday (Jan. 21-23) from 9:30 a.m. to 5 p.m. and Friday (Jan. 24) from 9:30 a.m. to 1 p.m. It is located at: Las Vegas Convention Center 3150 Paradise Road Las Vegas, NV 89109