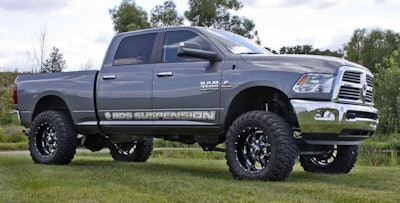 If you are a contractor that works in the oil/gas fields, road building, or other occupation that requires your Ram 3500 SRW truck to run 35- to 37-inch tires for the extra ground clearance and traction, BDS Suspension has the perfect suspension solution: a 4-link, 4″ lift kit.
Just like the kit used under ProPickup's Project Super Crew, the 2013 Ram 4″ 4-link conversion kit dramatically improves the ride quality and performance of late model 2013+ RAM 3500 4WD trucks equipped with factory front radius arms and rear leaf springs.
BDS' 4-link kit improves stability, wheel travel, and overall handling across all terrains while allowing up to 37-inch tires to fit under the front. It's also built to handle the toughest conditions using the best poly bushings and grease fittings available.
The additional height comes from a pair of specially designed progressive rate ProRide coil springs. The coils are left and right side-specific to improve performance and eliminate coil bowing.
Also up front, a heavy duty fabricated front track bar bracket to recenter the front axle as well as a forged drop pitman arm and black e-coated brake line relocation hardware are included to reposition all steering and brake components.
In the rear, a 2″ tapered block kit is used along with black e-coated u-bolts to level the stance. Your choice of vehicle specific BDS-5500 hydraulic or Fox 2.0 performance gas shocks are used at all 4 corners to improve dampening performance on the late model 2013 Ram 1-Tons.
CONTACT: BDS Suspension; 517- 279-2135