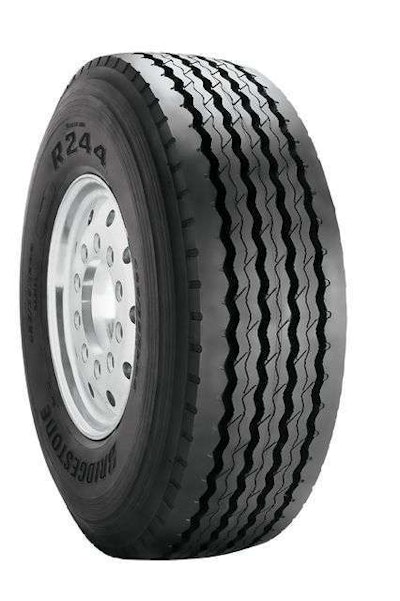 Bridgestone Commercial Solutions says the company has developed a new rib-type all-position steer radial tire for severe service and on-highway applications.
Bridgestone says its R244 all-position steer radial tire is aimed at dump and mixer applications, which spend a higher percentage of miles in on-highway use. The tire is designed with a wide-base ribbed steer pattern for performance in on- and off-highway applications without sacrificing the traction needed on rougher roads, according to Bridgestone.
"Most dump and concrete trucks spend more time on interstate highways where irregular wear and ride are more important, than off-highway construction sites," says Bert Jones, manager, product marketing, TBR, retread and OTR, Bridgestone Commercial Solutions. "Many of our customers, especially in the southwest, expressed an interest in a tire that offered longer wear, a smoother on-highway ride and that performed well on sandy sites. The R244 was designed for them."
The tire now is available in size 425/65R22.5, with sizes 385/65R22.5 and 445/65R22.5 set for release later this year.