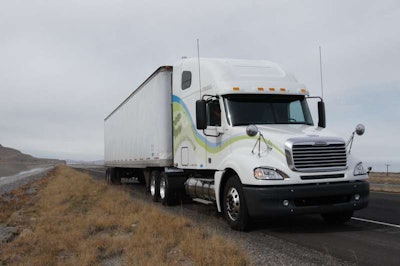 Equipment Editor of our sister site, CCJ, Jack Roberts recently took a Freightliner equipped with a Detroit Diesel engine refurbished and retrofitted with a bi-fuel natural gas kit from APG and Wheeltime.
The drive went through some serious mountain grades where Roberts says he wanted to see for himself if a dual-fuel, diesel-ignited natural gas truck engine was up to hauling 44,000 pounds up the demanding terrain.
Roberts says the system manages the flow of the two fuels to the engine, using diesel both as the ignition source in the combustion chamber and as a power boost in situations demanding higher torque from the engine.
So, when the truck is just getting rolling or climbing a steep mountain grade, the system supplies larger amounts of diesel to the engine (up to 50 percent of the fuel supplied, depending on road and terrain conditions) and then dials that ratio back as engine load demands decrease.
"On the road, the truck handles and drives exactly as one expects: it is, after all, a brand-new truck," Roberts writes in his recap of the drive. "The only indications that something unusual is going are an electronic fuel system monitor on the dash, which tells the driver what the diesel to natural gas fuel ratio is."
So what were some of the specifics of Roberts' truck? Click here to find out.