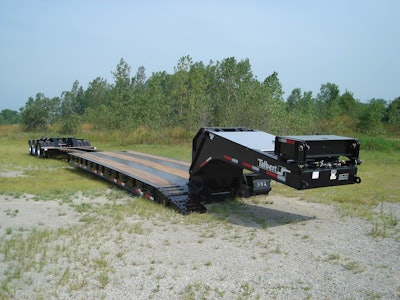 Talbert Manufacturing has developed a new telescopic 55-ton hydraulic removable gooseneck (HRG) trailer, offering a 20-inch deck height.
Talbert says it designed the 55-ton HRG with a telescopic deck capable of extending from 30 to 50 feet long. Extended, the unit has a 27-foot wood deck in the front and a 3-foot wood platform in the rear with beams stretching between. The trailer expands and locks in 4-foot increments. When compressed, the trailer can be used as a standard deck trailer.
The HRG features a 96-inch swing radius and a gooseneck extension with a 120-inch swing clearance. While the competition offers 22- and 24-inch deck heights, Talbert offers this telescopic HRG with a 20-inch deck height.
The unit can be set up as a 4 axles close couple or in a 2 + 2 or 3 + 1 spread axle configuration, and the 3rd and 4th axles can be flipped or removed. A 24-inch pinned and hinged gooseneck extension that also can be flipped.
The trailer can be shortened to less than 53 feet so there is no need to obtain an over-length permit when the trailer is running empty.
The Talbert 55-Ton telescopic trailer is equipped with standard air-ride suspension. The trailer also is equipped with optional Dura-Bright aluminum wheels, strobe lights at each axle, and a battery backup that powers the lighting package when the trailer is disconnected from the truck cab.
Talbert says the gooseneck design delivers greater lifting capacity over comparable models due. In combination with its heavy-duty T-1, 100,000-PSI minimum yield steel construction, the Talbert 55-ton telescopic trailer offers unmatched strength and reliability.