The wife of your warehouse manager says she knows the wife of a guy who has a new way for fleets to get better fuel economy, saving up to a nickel a mile. What do you do?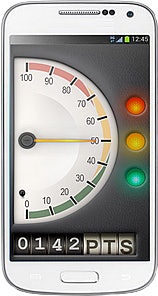 It's a sign of the times: Scott Penna, a second-generation co-owner of a company that distributes restaurant and janitorial supplies in the Boston area, immediately got on the phone. After all, if that friend of a friend had been selling a top-secret fuel additive out of the trunk of his car, Penna would have just wasted a little of his time. Instead, he met the highly qualified founder of a local high-tech startup. Arrow Paper soon became one of the early users of PedalCoach, the first product by LinkeDrive.
"I'm sure everybody has the same problem. Obviously, fuel prices have gone up and we didn't really have a way to offset that spend. We also had been having some maintenance problems with our trucks," Penna says. "So we were hoping this system would get us better fuel mileage, and a little more driver involvement in how they were driving – which would, in turn, help us with our maintenance issues."
The Arrow Paper fleet consists of one tractor, along with 13 straight trucks. The fleet averages 30,000 miles per vehicle, and last year's fuel bill was about $220,000.
The results, after more than a year with PedalCoach, have been "great" for Arrow, with fuel savings ranging from 11 to 20 percent, depending on the driver and the route.
Penna describes PedalCoach as, essentially, a smartphone app: A phone mounted in the cab connects via bluetooth to the engine's data port and with a cell signal link to the fleet's cloud-based account.
By mounting the unit on an arm near the truck's instrument cluster, Penna says the display is "like another gauge," and driver distraction is not an issue.
The display is straightforward: A representation of a traditional analog needle and red/yellow/green scale, but instead of RPMs or road speed, it indicates real-time fuel usage as measured against the system's calculated target rate.
And, as LinkeDrive founder Jeff Baer explains, that simplicity (and the software "magic under the hood") is the key to PedalCoach.
A mechanical engineer with graduate degrees in engineering and business from M.I.T., Baer has worked with engine controls at Ford and more recently on cutting-edge commercial vehicle battery technology. In working with electric trucks he discovered that wide differences in battery performance weren't because of faulty energy storage, but because of the how the trucks were driven.
So he had entrepreneurial itch, and an idea for a product: With so many fuel economy improvement solutions focused on hardware and on increased software control of the powertrain, Baer wants to put the driver "back in the loop."
His idea, based on his knowledge of how modern engines are programmed and controlled, was to make fuel usage data available to the driver – and to reward him for running in the most efficient range.
An mpg readout on the dash is a trailing indicator, he suggests, as are telematics-based scorecard systems. They might be accurate measures, but they do nothing to improve driver understanding and behavior.
"What's different about PedalCoach is drivers like to use it," Baer says. "We've made a game out of it. We're giving him a realistic target, and telling him he's doing a good job. There's nothing as simple as keeping it in the green."
Of course, "the magic" is the math behind establishing the green range – but that's the job of LinkeDrive's engineers, not the driver.
The system works because the algorithm at its heart makes sure the game is fair: A driver with a brand new truck will have a different target than a driver with an older vehicle. And PedalCoach learns as it goes, adapting to each vehicle.
"We take everything that's out of the driver's control out of the picture," Baer says.
PedalCoach is currently installed in 12 fleets, across a broad range of commercial markets. At an over-the-road fleet that already had a fuel-economy incentive plan in place, every driver moved up to the next bonus level, Baer reports.
He also notes that his company doesn't intend to be in the hardware business, but it will provide the Bluetooth network adapter and smartphone with mount if the customer requests it.
Otherwise, the platform is "hardware agnostic" and the company will have the ability to integrate PedalCoach into existing Qualcomm and PeopleNet systems.
Baer declined to discuss pricing, but says the payback target on PedalCoach is 3 to 6 months, depending on the application and miles driven.
At Arrow Paper, Penna calls the system "self-training."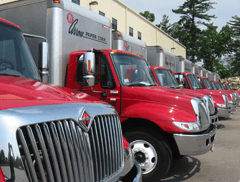 "It's very simple," he says. "Once drivers start to use it and become engaged, it's second nature. It's changed the way they drive the truck."
Among the benefits, other than a reduced fuel bill, Penna cites reduced driver fatigue and fewer maintenance issues, even though the fleet is still the same set of vehicles, now a year older.
To supplement the monthly $50 incentive for meeting PedalCoach targets, Arrow Paper is also developing a safety incentive.
Indeed, in a Teamsters shop incentive-based pay systems had been a problem, mainly because contracts typically rewarded drivers for continuing to do things they were already doing. Penna says PedalCoach, and it's ability to track performance, has proved to be a win-win.
"We've had good buy-in. Part of the problem with a union shop is how to motivate them to care about the soft things, like the fuel economy of their truck," he says. "It's not something we really worked on before."
George Dighton, a Teamster who's been driving professionally for 27 years, 11 years at Arrow Paper, admits he was skeptical when PedalCoach showed up in the cab. While a number of veteran drivers at the company worried the system was an intrusive monitoring device, Dighton's concern was that he would lose time on his route. And he admits he had a tendency to "step on the gas" to get up to speed as quickly as possible.
Turns out, he can drive more efficiently and not lose time.
"I was used to driving a certain way, and having to keep it between the green and yellow lights took some getting used to," Dighton says. "I look at it as a little game. I'm not putting the pedal to the floor anymore, but it really hasn't made me slow down in terms of my getting my job done as fast."
After using the system for a while, he hardly monitors the gauge now. And he's a more fuel efficient driver at home. Trying to get five kids around Boston, he had been driving "liking a mental case," he says. But the habits he developed using PedalCoach at work have cut his family fill-ups down from three times at a week to two.
He likes Arrow Paper's driver scoreboard as well.
"I'm wicked competitive. Now I'm into how many points I've earned. What's my efficiency percentage? I want this machine to say I made 100 percent. It's never going to happen, but at least I'm trying," Dighton says. "I'm not worried about being monitored as long as I'm doing my job. It's a good little system."
Arrow Paper also is working on a live, daily scoreboard with more frequent updates than periodic postings. "A little peer pressure always helps," Penna adds.
The adoption of the latest technology is something the company has had adjust to.
"Until four or five years ago, we were not on the leading edge, technology-wise," Penna says. "We've made a push to become more efficient, whether it's changing the truck-routing program or putting in a new ERP (Enterprise Resource Planning) system or now PedalCoach. As it gets harder and harder to compete, using technology to our advantage – to do more with less – has definitely helped us, and helped our bottom line."